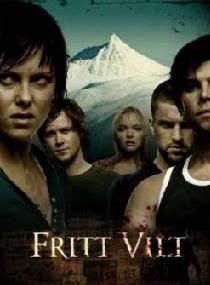 Fritt Vilt (Cold Prey) was actually released in Norway in late 2006 but didn't come to the states on DVD until January 20th of this year. As has become the norm with foreign (especially European) horror, it kicks all kinds of ass that American horror can never seem to kick. Here's a little synopsis along with the trailer ....
Five teenage snowboarders are forced to spend the night in a mysteriously abandoned ski lodge. Except somebody – or something – already lives there. It is huge, savage and unstoppable…and now it's pissed off.
It's pretty much got everything that I like to see but so rarely see in a horror movie ; good acting, likeable characters, quality (but not overdone) gore, a simple but effective backstory for a killer (who's pretty badass and relatable), and even snow! It ranks right up there with Eden Lake, which may now get bumped down to being my second favorite horror flick i've seen this year. As far as slashers go, they don't get much better than Cold Prey.
I won't bore you with anymore reviewing than that, all i'll say is ....
ADD IT TO YOUR NETFLIX QUEUE!
I was delighted to just discover that not only is there going to be a Cold Prey 2, but it's in fact already been released in Norway! It will pick up right where the first one left off and should be coming to the states on DVD pretty soon. If anyone has any information on when it will be released, please leave a comment and let me know. Also leave a comment if you've seen Cold Prey and let me know what ya thought about it!