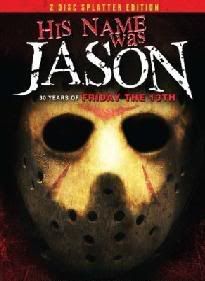 If you haven't picked up the new 2 disc documentary set His Name Was Jason yet, you might wanna head over to your local Walmart, where it's currently selling for a mere $10. On top of that, you also will get a FREE ticket to see the remake when you purchase the DVD, which is pretty much the greatest deal in the history of deals. Depending on how you look at it, either your ticket or the DVD is totally free of charge. If you head to Best Buy, not only is the DVD more expensive, but you only get a $5 off coupon for the remake ticket. I think it's clear who the winner is on this one. Also, the Friday The 13th Blu-ray is going for only $20 at the Wal.
I checked my local Walmart last week and they were totally out of the disc as was Best Buy. In fact, Best Buy didn't have a single copy of any of the new Part 1-3 DVD's either. The dude working there said they sold out, but this was like two days after they had hit shelves. They must've gotten literally one copy of each. I did manage to snag a copy of His Name Was Jason from Netflix however and it's definetly worth shelling out the zero dollars for it! I only watched the documentary part as Netflix doesn't appear to have disc 2 and while it's more suited for those who are just being introduced to the franchise, it's a nice brush up course on the movies before ya head out and see the remake Friday.
So head to Walmart, pick it up before this deal goes away, and watch it in the next couple days! It's the next best thing to having a whole Voorhees marathon, if ya just don't have the time.
Also, i've never seen a single episode of the USA show Psych, but this Friday they're having a Friday the 13th themed episode. It's called "Tuesday the 17th" and here's the plot :
A childhood friend hires Shawn and Gus to find a missing camp counselor ; the detectives must uncover if an abandoned camp's dark past has come back to life.
Here's the promo commercial :
Like I said, never seen the show, but I love when shows do tie in episodes like this and they've certaintly grabbed my attention. The episode airs at 10pm/9c on USA.
Friday the 13th redux for free. Respectable television shows paying their respects to the franchise. Life is good!