Writing on this blog over the past 7 months or so has brought me many cool things. I've gotten some free shit. I've had the opportunity to speak to many people who i'm a fan of. I've even gotten e-mails from people I admire telling me they read and love the site. But today, the greatest thing that has ever come from my writing came to me ....
I mentioned a couple times now (sorry!) about that
Friday The 13th - In Memoriam
post that I did over at Benevolent Street honoring the fallen men and women of the franchise and I also mentioned how B. Street owner Tony reposted it over at Fridaythe13thfilms.com. It's gotten many positive comments over there but two really stood out for me and really made me feel like i'm doing something positive with my writing and made the whole 5 plus hour process of putting the article together well worth it. Just figured i'd share those with you guys on here. By the way, if you haven't yet read the article, please click that above link and check it out!
The first comment was from a man by the name of Gary who had this to say about Tom McBride, who played Mark in Friday Part 2 and who died of AIDS related complications in 1995.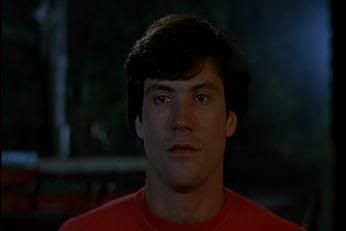 "I have always thought it would be a good idea, and a warm way of remembering "Friday The 13th" actors and actresses who have passed away.
Being Tom McBride's nursing assistant, he and I became friends.
He would talk about being in commercials, modeling, and movies.
I was a fan of the "Friday The 13th" series, and Tom would spend lots of time talking about the interview to land the role, the setting/scenes, and working with the other actors.
When I went to take Tom's vital signs one morning, there was a machete laying on the chair beside his bed with his signiture.
Tom was funny, energetic, and always made a friend.
I remember him telling me that his wish before dying is for people to remember him not from AIDS, but as someone who made someone smile, laugh, and made a friend.
He told me that it would be neat to be remembered as "Machete-Face".
He laughed and said he should have been the one to come back and be a horror icon like "Jason" and "Leatherface".
So when I think of my friend, I can't help but to think of ol' "Machete-Face"."
And the second was from Jenny, who told this heart warming story about Laurie Bartram, who played Brenda in the first Friday and who died of pancreatic cancer in 2007.
"Laurie Bartram was a dear friend of mine. While I still think about her at random times whenever a Friday the 13th roles around she is the first person I think of. Laurie and I became friends while we were at Liberty University our freshman year. It's funny, at the time, I had no idea that she had been an actress in a movie or that she had a role in the soap opera, "Another World". When someone asked me if she ever talked about her acting career, I was oblivious to it. Later when I asked her, "Why didn't you tell me?" Laurie said very simply, "I loved the fact that you didn't know and that you just loved me for who I am." And I did. Later she actually gave me the shirt she wore in the movie Friday the 13th but she didn't want me to watch it! For Laurie those years were a past she had left behind. Years later I finally got her to agree to let me rent it. Watching her on screen made me smile because it was "so Laurie". Her expressions and mannerisms came through in her character. Laurie was a beautiful person. I think that would have shown through in any role that she played. RIP I miss you Leej."
It's really amazing to me how a little article I wrote on a little horror site has reached so many people and has given people like these two a place to tell these awesome stories about their friends. So thank you Gary and Jenny not only for sharing these stories which I will never forget but also for making me feel like the time and effort I put into all of this is worthwhile. (God knows i'm not gettin paid in the monetary sense for it!)
I already submitted the article to the IMDb hit list (which is essentially a daily updated portion of the site containing a few user submitted movie related articles) and i'd really love to see it on there. I've had articles on there a few times before and they certaintly garner a lot of attention, which is something i'd love this article to get. Especially being that we're fast approaching a new chapter in the Friday legacy. So if anyone would like to help out, i'd really appreciate if you too could submit the article to the hit list to help increase its chances of getting on there. All you have to do is click
THIS
link, hit 'start new topic' at top, register if you haven't yet, put "Friday The 13th - In Memoriam" in the subject header, and post the link (http://www.benevolentstreet.com/?p=915) into the body. That's all! Thanks so much for those who help out! I'm not looking to get shameless hits, i'd really just like as many people to see the article and take some time out of their day to remember these folks as possible!
I can go to bed feeling accomplished for once tonight!