Just got back from Monster Mania today and immediately rushed out to see Last House on the Left, being that I wasn't able to feast my eyes on it until now. I'm not gonna have the time to post my Mania experience until tommorow, but I figured i'd quick whip up a little post on my Last House thoughts while Jen is deeply engaged in some Playstation Home pool action. Actually, truth be told, she's only doing that because I need to write this and won't be able to focus on doing anything else until I do so. But anyway, as always, if you saw the movie, leave a comment and let me know what ya thought.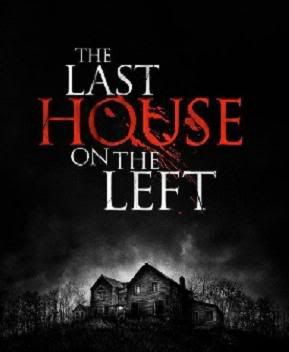 Holy shit! I didn't know (post 70's) American horror was capable of being this unnerving! Last House on the Left was always one of the more disturbing pieces of American horror cinema and i'd say it's been done a hell of a lot of justice with this redux. I thought a bigger budget and some known actors would do nothing but hurt the realism and disturbing-ness (?) of the flick, but boy was I wrong. This is a testament to not only the director, Dennis Illiadis, but just as importantly the awesome performances from nearly the entire cast (could've done without that Superbad chick). The film manages to make you feel just about everything it wants you to feel, be it sadness, rage, or utter satisfaction. Last House '09, if you're askin me, is easily the most effective and best American horror movie in the past couple years. Look out you sick French and Japanese fuckers! Us yanks are taking the horror genre back!
But be forewarned, this one is not for the weak of heart .....
I gotta say that now having a woman in my life that I really love and can't stand to see in pain, I can't seem to handle violence against women on the screen anymore. It never really bothered me so much but it's really been turning my stomach lately and I can barely stand to even watch it. I was so disturbed and disgusted during the "attack" scene that I was admittedly choking back tears during the majority of it. Just like the original, it's so realistic and so brutal and painful to watch. In fact, the original did not even make me feel the way I felt today. Jen was especially unnerved, covering her eyes and getting ready to walk out, and I can't say as i've ever seen that reaction from her before. Lest you think she's just a female and thus can't handle violence, she's sat through many a graphic horror flick with me and has never been as visibly upset as she was during this one, so that's saying something. But all that being said, the violence, just like in Irreversible, was totally necessary. We need to see the whole rape go down and see just how horrible it is in order to not only justify the second half but also make that second half as satisfying and I definetly credit Illiadis for not pulling any punches when it came to the rape / murder sequence. Horror is supposed to be disturbing and this version of Last House just about corners the market on disturbing.
I've read about a lot of people walking out of the theatre, but don't take that to mean the movie sucks. Quite the contrary. If anything, it's a testament to just how effective of a movie it is. Some people can't handle it, plain and simple, and I really don't blame them for getting up out of their seats and returning back to the comfort of their homes. If you're not the type who can handle a graphic and realistic rape scene, do not even subject yourself to this movie. Yes, it's only a movie, but a movie can still be pretty fucking powerful and even a bit damaging to one's sensibilities.
As for the revenge portion of the film, it was equally as well done. The parents don't turn into super human killing machines once they find out their daughter has been raped, which I loved as that would've been cheesy and unrealistic, like too many revenge movies are. Watching them go through it together and figuring out how to take the life of another human being is both painful and incredibly empowering to watch. I was literally on the edge of my seat eagerly anticipating the total annihiliation of the bad guys and the sheer satisfaction of seeing them get theirs felt pretty damn good. When they do finally get it, they get it good ..... with one exception that I knew was going to be a problem when I read the script months ago. I really wish they would have changed Krug's death scene as it felt totally out of place in the movie. I'm sure most of you already know what happens to him (and if you don't and wanna know, you can read my review of the script
HERE
) and it comes off as lame on screen as it does on the page. I understand that they were going for an over the top brutal kill scene for Krug being that you so badly want to see him die, but I think they dropped the ball on this one. In such a realistic movie with realistic violence throughout, it feels like the movie suddenly takes a turn into Dead Alive territory and it definetly hurts the overall feel of the movie.
But that's really the only complaint I have. I thought I was gonna have a problem with Mari living (don't think i'm spoiling anything there), but i'm definetly glad they made that change from the original. The movie is so much more effective and powerful with her living and making it back to her home and having her parents actually see what has been done to her and realize that their daughter has been raped. While I initially felt it was gonna be another cop out American ending of having a victim live, I think it was the better choice here. There needs to be something uplifting in such a bleak and horrifying movie, after all.
Thank you, Mr. Illiadis & Co., for managing to make a film as disturbing if not more disturbing than Wes Craven's original. I really didn't think it could be done and I love to be proven wrong when it comes to the horror genre. Last House is one of the best remakes ever made and you owe it to yourself to check it out. But as I said, it's certaintly not for everyone. Even being a seasoned horror veteran, it was still a little much for my tastes at times. But that is the ultimate goal of a horror film, so the misson was most certaintly accomplished.
Phew. I really think I need to take a couple weeks off from disturbing horror movies. With this and Martyrs in one week, i'm pretty certain i've had just about enough. Time to cuddle up with a nice kiddy flick tonight!