I've met a lot of cool people in the past eight or so months of running this blog and one of those folks is a UK based illustrator/animator/artist/guess the movie expert by the name of Nik Holmes. He's got some pretty serious credentials including working for clients the likes of Virgin, Microsoft, and Mastercard, and he even produces a comic book titled "Bikini All Stars". You can check out his work at several different homes on the web ; his
official website
, his
blog
, and a site called
Zombie Dollars
, where he of course specializes in zombie artwork.
But the reason i'm posting this is because he's just launched a pretty cool little feature on his site called The PSYCH-o-MATIC, which allows you to create Nik's own version of your favorite horror villain with the click of a button or, if you so desire, you can even create a mismash of all of your favorites. Give Freddy's glove to Jason, slap Leatherface's apron on Michael Myers, the possibilities are endless. You can choose from various heads, bodys, and weapons to create the ultimate horror villain of your own design!
Let's use some visual aids to show ya what I mean .....
If you want your standard horror villain as you know and love him, you can create him .....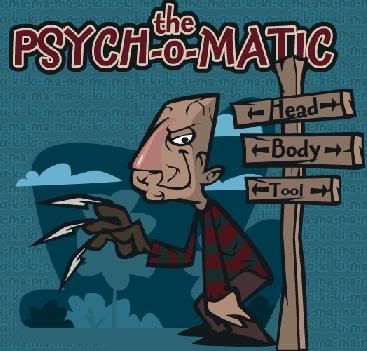 Or you can combine such horror villains as Cropsy, The My Bloody Valentine Miner, and Leatherface to create a super villain .....
The choice is yours! So how do you go about making your own creation? Follow
THIS
link, where you can even print him out (full page size!) when you're all done!
Have fun with it and leave a comment with a link to your very own maniac (this is where print screen comes in handy)! Thanks, Nik, and keep up all the awesome work!