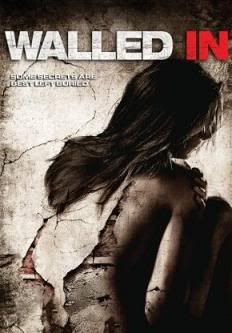 I'll tell ya why I watch shit like this! For one, "shit like this" can sometimes (but very very rarely) surprise. But more importantly, I sit through shit like this so that I can then go blog about it and tell anyone who will listen to me to stay away from it. Sure I could do that without even seeing the movie (it's a horror movie with Mischa Barton in the lead role, after all), but somebody's gotta sit through it and give it a fair shake. And quite frankly, I love being that somebody. Call me a glutton for punishment but if I can spare at least one person from seeing an awful horror movie like this, I will gladly take the bullet and see it for myself! After all, spreading the bad word on bad movies is just as important as spreading the good word on good ones, is it not? Ah, who am I kidding. I love to watch shitty horror movies!
So what's this movie about .... hmmmm ..... besides it being an unintelligible cluster fuck mess .....
Mischa Barton plays a (incredibly unconvincing) demolition lady or something who scopes out buildings that are set to be demolished and marks red x's on the walls where explosives need to be placed. That sorta thing. Well her job this time around is to scope out the mysterious Malestrazza Building and she decides to live on site while she goes about her business. What we know that she doesn't know is that some pretty serious murder shit (like the encasing of a young girl in cement aka the only decent scene in the movie) went down there 15 years prior (why is it always 15 years?). Can she unlock the mystery behind the building before she becomes another victim blah blah heard it all before .....
Is it just me or is Mischa Barton the most unengaging human being on the face of the planet? She is so goddamn boring and a pretty shitty actress to boot. I didn't buy her as a demolition lady for one second and in fact I didn't even buy her as a human being for one second. She's just a boring talentless void that's coasting by on her decent looks. And she even does voiceover in this flick! Now I have nothing against voiceover, I actually love it, but it takes a pretty talented actor to pull it off and pull it off well (i.e Morgan Freeman, Nicolas Cage). And no, she doesn't get naked or die, so there's nothing to see here. The film also stars Cameron Bright, aka that youngish boy who fucked Nicole Kidman in that movie and that creepy kid in that Robert DeNiro movie that made me finally come to terms with the fact that DeNiro's career is officially deceased. (I know most cite Rocky & Bullwinkle as the film where his career jumped the shark, but Meet the Parents, The Score, and City by the Sea all came after that and I enjoyed those). Anyway, this Cameron Bright kid sucks at acting too. He pulled off the creepy kid role decent enough when he was a creepy little bastard, but now that he's an acne faced teen I think he's pretty much done for as it pertains to movies.
How do these movies continually keep getting made? Generic, boring, predictable, cliche ridden and utterly pointless horror movies that follow the same exact formulas and oftentimes even the same exact plots. Every week it seems like we get five new movies that are carbon copies of one another! Where does the money come from to make these movies? Who backs them?! It just sucks to know that there are so many talented people out there with great original ideas who can't get their movies made because they don't have the resources and yet countless millions of dollars are poured into movies like this one on a daily basis. Talented screenwriters with brilliant ideas can not get their work so much as read and yet somebody decided to greenlight Walled In!? Which, by the way, was written by FOUR different people! It took four people to come up with this crap!
I had been on a streak of awesome horror movies lately so I guess it was time for me to run across a real bad one. Not that I expected this one to be any good whatsoever when I dove into it. But I guess ya gotta watch shit like this every so often to really make you appreciate the Midnight Meat Train's or the Let The Right One In's out there. Gotta sit through hell before you can enjoy heaven, or something like that.
Walled In comes out on DVD next Tuesday, March 17th. STAY AWAY! As if you really needed me to tell you .....
By the way, is that not the worst cover art ever?