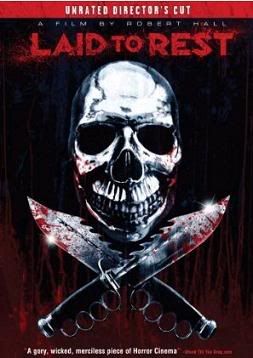 Why is everyone sucking this movie off? It's totally pointless garbage. Yes, the gore effects are pretty kickass, but that's all the movie has going for it and if all a movie has got going for it is a grand total of about 60 seconds of awesome gore interspersed between an hour and 29 minutes of utterly boring drivel, then that movie is an epic fail in my book. Laid To Rest proves (once again) that having quality gore and creative kill scenes do not a good horror movie make. Give me a more well crafted horror flick with far shittier effects any day of the week. But over the top gore flicks are so much fun, aren't they?! Yes, they in fact are. That is, when they're actually entertaining and not just in the moments where blood and guts are flying about (see : Hatchet)! I just wish the awesome effects (from writer/director Robert Hall's company Almost Human) were put to use in a film that was better acted, better directed, better written, better edited, and just about better everything-ed.....
I'm not even totally sure what the flick is about other than it's completely pointless and a guy named Chrome Skull runs around killing people. Chrome Skull is one of the cheesiest and least effective killers i've seen in a horror movie in a long time. He has a shitty uninspired silver skull mask that looks like it came from Wal-Mart around Halloween time, he drives a car with a license plate that says "ChromeSkull", he has his own likeness tattooed on his chest, he carries a mini dv camera on his shoulder, and he even fucking sends text messages not to mention his name is fucking CHROME SKULL!! It doesn't get much worse than that and yet Hall seems to think he's crafted an iconic horror villain that harks back to the days of Jason Voorhees and Michael Myers. Talk about delusional! Everyone involved in the making of this film seems to be delusional (just watch the special features) and the majority of the audience does too. Throwback to old school 80's horror my ass!
This movie sounds and looks like it was written and directed by a fucking 10 year old who watched way too many bad horror movies. Aside from the afformentioned couple of cool kill scenes, Laid To Rest is no better than any of the thousands of other low budget indy horror flicks that get dumped on us every month of every year. So why all the hype and positive words? Are we that desperate for good original horror that we'll suck off any shitty movie that provides us some cool gore? I demand better than that and you should too! At least Laid To Rest is an appropriate title though. That's exactly what it did for me....
And yes, that is Roach from People Under The Stairs!! I take back what I said about the gore being the only good thing about this crap....