Couple Chainsaw related things I wanted to talk about, some good, some real bad. Let's get the bad out of the way .....
- I'd like to send my condolences to the family of Lou Perryman, who died this past week. The 67 year old actor was probably best known to horror fans as L.G., the beloved radio station worker from The Texas Chainsaw Massacre 2. He was even an assistant camera operator on the original Texas Chainsaw Massacre. Perryman also appeared in Poltergeist, The Blues Brothers, and Boys Don't Cry over his career. This tragedy is all the more sad because Perryman was murdered in his Texas home, apparently the victim of a totally random act. You can send your condolences to his family and pay your respects over at his
Facebook
page.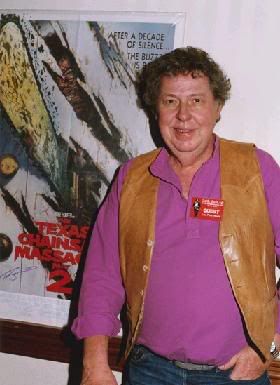 Rest In Peace Lou Perryman
1942 - 2009
- On a lighter Chainsaw note .....
A couple months back, I had planned to do a recurring column on Benevolent Street where I would interview and ask well known genre actors about their favorite horror convention memories, being that B. Street is the official home for the Scare Fest convention's forums. I thought it'd be a fun little tie in and the first "episode" of it was going to be an all Chainsaw edition, with stars of the original flick sharing their favorite memories. I was able to get in contact with Edwin Neal (The Hitchhiker) and Teri McMinn (Pam) who both agreed to share a memory but ultimately became too busy to contribute. I also contacted several other cast members, including Tobe Hooper and Gunnar (Leatherface) Hansen, but was not able to get replies. With that failure I kinda forgot all about the column idea for a while. On top of that, Benevolent Street kinda went under (there are plans to bring it back bigger and stronger than ever but i'm really not gonna have time to contribute) and the whole thing just fell apart. Well, just the other day I ended up checking my Benevolent Street e-mail account, which I hadn't checked in at least a month, and there was a response from Gunnar Hansen to my e-mail from months earlier, apologizing and providing me with his favorite horror convention memory! I figure why not just post it on here, as it doesn't look like that full column is going to come to fruition. So here is Gunnar Hansen's all time favorite horror convention memory, a nice little tale of shared respect between actors.
"At a convention a few years ago, one of the radio networks was doing a remote broadcast, and I was scheduled to come on at 9:00 PM, so I sat in the audience, listening to Al Lewis tell the host wonderfully funny stories about his experiences as Grandpa on "The Munsters" tv show. I was in awe of him. His hour ended and the host went to commercial. As Al was leaving, he walked past me. He stopped, looked at me, stuck his hand out and said "Love your work." Then he stuck his cigar back in his mouth and he was gone."
- Speaking of Teri McMinn, she did agree recently to do an interview with me and I submitted some questions to her which she promised to respond to pretty soon so hopefully that will be posted within the week! That was that "off the hook" interview that I alluded to a couple weeks ago .....
- Back to Troma tommorow! I'll return on Thursday with a full recap of my day!