Who doesn't want to be driven to do that?!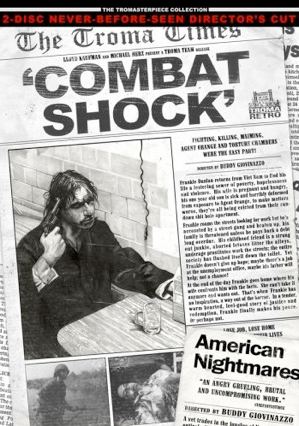 I'm writing live from the Troma offices right now to tell ya about an exciting new release from the company. Combat Shock is a balls to the wall horror flick that came out in 1986. Ever seen it? Well, I can guarantee you've never seen it like this before! On July 28th of this year, Troma will be unleashing the never before seen 2 disc Director's Cut of Combat Shock and, as usual with the releases coming out of Tromaville, it will be absolutely chock full of awesome and comprehensive special features. Whether you're new to Combat Shock or have known and loved it for years, check out the brand spankin new uncut trailer to the film that Henry : Portrait of a Serial Killer director John McNaughton hailed will "make you want to slit your wrists"!!!
The jam packed two disc Tromasterpiece release will be loaded with the following special features :
+ American Nightmares (100 min): The Never-Before-Seen Director's Cut
+ Combat Shock (90 min): The Troma Theatrical Cut
-Audio Commentary with Director Buddy Giovinazzo and Jorg Buttgereit
-Optional Spanish Language Track
+ Post-Traumatic, An American Nightmare (40 min): A look at Combat Shock's Everlasting
Underground Following and an Examination of 'Nihilistic Cinema' featuring all-new interviews
with: Rick Giovinazzo, John McNaughton, William Lustig, Jorg Buttgereit, Jim Van Bebber, Roy
Frumkes, Mitch Davis, Joe Kane, Rick Sullivan, David Gregory and more!
+ All-New Interview with Director Buddy G Conducted by Lloyd Kaufman
+ Never-Before-Seen Short Works by Buddy Giovinazzo:
- Mr. Robbie, starring Joe Spinell (Maniac)
- More to be announced!
+ Hellscapes (10 min): A Look at the Locations from Combat Shock as they appear today
+ Original Press and Photo Gallery
+ Original Theatrical Trailers
+ 'Solider of Misfortune: Buddy Giovinazzo's Combat Shock' - New Liner Notes by Steve
Puchalski (Shock Cinema, Slimetime)
Can't wait to get your hands on it? Pre-order it today on
Amazon
for only $17.99!!
Spread this sumbitch around!