**Thanks to
Basement of Ghoulish Decadence
for bringing this to my attention and for speaking out about it!**
I've said it before and i'll say it again ; Near Dark is one of my all time favorite horror films and until Let The Right One In came along, it was my favorite vampire movie of all time. A few years back, Anchor Bay released a beautifully packaged 2 disc DVD of the flick chock full of special features that to this day is still one of my favorite DVD's on my shelf. I'm talking about this bad boy, which a mere shiny-less picture of doesn't do justice .....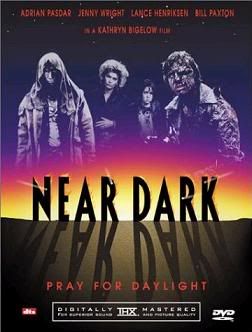 Well now it appears that Lionsgate, a once respectable company (before the Meat Train debacle), has picked up the rights to the film and, on July 7th of this year, will be releasing their own DVD, with this shitty cover ....
Look familiar to anyone?!?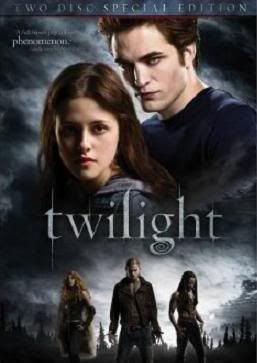 Tailoring Near Dark to the Twilight crowd in an attempt to cash in on the craze? Shame on you, Lionsgate. Sure they're both vampire movies, but one really has nothing to do with the other and why the hell does a classic film like Near Dark need to be made to look like a movie that came decades after it? It's like Lionsgate is saying "nobody will buy this movie....unless we make it look like it's another Twilight!" If you don't already own the movie, buy the Anchor Bay version and boycott this Lionsgate butchery.
Speaking of Anchor Bay, they're not in the clear either .....
How about this
Hellraiser Puzzle Box
set that came out today? For years horror fans have been demanding the puzzle box that Region 2 got a while back and now we finally get it and it's not at all what we really wanted! Aside from the awesome packaging, take a look at what's in the set :
Hellraiser 20th Anniversary Edition DVD
Hellbound : Hellraiser 2 20th Anniversary DVD
Hellraiser Blu-ray
Re-releases of the same DVD's we've already seen and the Hellraiser DVD and Blu-ray in the same set! Why!? If you've got a Blu-ray player, why would you want the DVD? And if you don't have one, why would you want the Blu-ray?! What sense does this make? The only reason to pick up the set would be to get the puzzle box case itself, which really kind of makes this a worthless purchase if ya ask me. Thankfully, the Blu-ray was also released today on it's own, so you can just pick that up if ya wanna get a glimpse of Hell in high definition.
Couple other things ....
- Don't forget to enter my Eden Lake contest (below)! All ya gotta do is send me an email at mortis45@aol.com with your name and address and "Eden Lake Contest" in the subject header. Couldn't be any easier than that! Only ten people thus far have entered, so your chances of winning are pretty high!
- Is anybody interested in me bringing back the weekly DVD release roundup, where I talk about all of the horror DVD's hitting shelves each week? I used to do it on here every week but then moved the column over to Benevolent Street, which I no longer have time to write for and i'm thinking of bringing it back on here. If I get a couple comments saying you guys want it, it will be back!
- I just checked out All The Boys Love Mandy Lane today, finally. I didn't really love it as much as some did, but I enjoyed it and it's definetly a solid slasher flick. It was just announced that it will finally hit U.S. theatres July 17th of this year, so definetly check it out if it's playing at a theatre near you. And if you're in the UK or have a region free DVD player, you can already pick it up on either DVD or Blu-ray over at
Amazon
.
- Back to Troma for day four tommorow. I'll have my recap of the day either late tommorow night or early Thursday. Aside from that post, there won't be much going on here this week being that I leave for Canada Thursday night and come back sometime on Sunday. It'll be my first time leaving the country and i'm pretty excited about it. Going up to Niagra Falls and maybe into Toronto with the girlfriend and my three best friends. Should be a hell of a good time and the looking forwardness of it should make my day in Tromaville tommorow a breeze, eh!