***If you want to throw your two cents in on any of my past discussions, go
here
and
here
. New responses are always welcome and will be seen.***
It's a question and topic that's been discussed to death in pretty much every place horror can or has been discussed (and it's one i've even discussed at length in
the past
), but it's a question that cannot be left out of any respectable horror discussion so lets get it out of the way....
What is your favorite horror movie remake? Actually, to spice it up a little, and so nobody can take the easy route of The Thing or The Fly, let's cut that question down a bit. What's your favorite horror movie remake from the past ten years?
My choice is not an easy one being that i've absolutely loved several of the remakes that have come out in the past few years. Texas Chainsaw, House of Wax (fuck off!), Dawn of the Dead, and Quarantine all come to mind. But the one I was most impressed by and the one that trumps the original the most is .....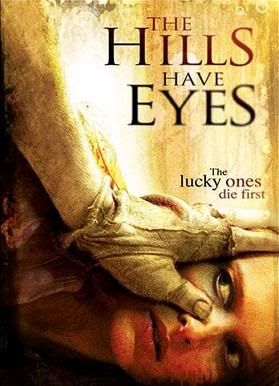 I've never been a huge fan of Craven's original, I can't lie. I own it, and I liked it enough to watch it a couple times, but i've never considered it a must see genre classic and quite frankly, I tend to get pretty bored by it. It's a movie that was just dying to be upgraded for our generation and High Tension's Alex Aja, who was a huge fan of the flick, took advantage of the groundwork Craven laid decades prior. And if you're asking me, he knocked it out of the fucking ballpark. I still can't for the life of me figure out how any horror fan could not like what Aja did with this movie. It's a balls to the wall no holds barred movie that exemplifies everything the horror genre is about. This is a true horror movie in every sense of the word and I love every second of it, no matter how many times I watch it. From the characterization to the brutal gore to the badass western revenge style cheer in your seat turn at the end, The Hills Have Eyes '06 is not only my favorite remake in the past decade, it's one of my favorite genre movies period of the past decade. If you're askin me, it really does not get much better than this.
With that, I turn the floor over to you!