In past weeks we've discussed horror movies themselves ;
favorites
,
guilty pleasures
, and
remakes
, but this week we're gonna go a bit of a different route....
Who is your favorite horror villain? To spice things up i'm gonna do what I did with last weeks discussion and eliminate the more obvious answers so this doesn't become the typical boring old generic debate. So who is your favorite horror villain besides Freddy, Jason, Myers, or Leatherface, and why?
I've talked about my love for Hatchet more than enough on here, but i've gotta go with .....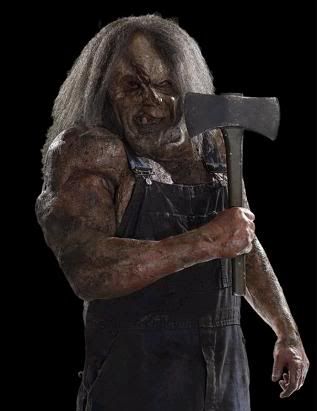 VICTOR CROWLEY
Why? Just look at him! How can ya not love that! V.C is the perfect throwback to the oldschool 80's slashers villains and that's the main reason I was so drawn to him and Hatchet as a whole. Here's a deformed dude who had an evil done to him and who came back years later for revenge on anyone who crossed his path. If that aint the classic makings of a slasher villain, I don't know what is. Crowley harks back to the days of the likes of Jason Voorhees, Madman Marz, and, perhaps most notably, The Burning's Cropsy ; a classic campfire tale in the flesh. We just don't get villains the likes of ole Victor Crowley these days and to see him born in the year 2007 was and continues to be a real treat. I could watch endless amounts of sequels to Hatchet, as long as Crowley is running around like a madman and fucking people up, and that's why I consider him one of my favorite horror villains. The dude's super-human strength and the way he dispatches his victims certaintly doesn't hurt his case either. A gas powered belt sander?! Ripping a head in half?! It don't get much better than that!
So .... who is your favorite and, if you're feeling up to it, why?