Got a bunch of replies on
last week's
discussion question, so I guess this will in fact become a recurring feature on here. This week's question pertains to what most refer to as "guilty pleasures", something us horror fans all have no shortage of!
You know it sucks, but you love it just the same. In fact, you probably love it even more because it sucks! What is your favorite guilty pleasure horror movie?
I personally don't feel any guilt about any of my pleasures, but the one bad horror movie that comes immediately to mind (perhaps thanks to the fact that I just watched it, though it's about as perfect a choice as I can think of regardless) and holds a special place in my heart is ......
(I know at least
one fellow blogger
will appreciate me not using the watered down DVD cover image! The
skull ice cream
is pretty cool, but it doesn't beat bloody eyeball ice cream or that Clint Howard facial expression!)
Do I really need to explain myself any further than to just show this picture?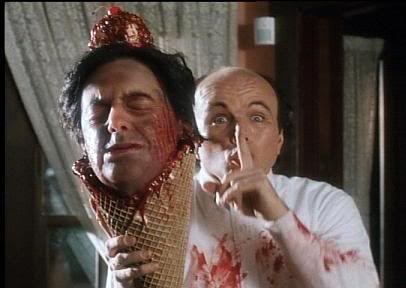 (To make that all the more badass, that's the head of American Werewolf star David Naughton!!)
No? Well I will!
The reason I know this is the perfect choice is because it pained me above to call it a bad horror movie! I have been fascinated with horror, ice cream men, and Clint Howard for many many years so naturally the combination of the three in one hour and half event is pretty much the closest I can ever get to complete and utter nirvana. When it comes to the sub genre of ice cream horror, a sub genre that I deeply love, Ice Cream Man (without the "the") is at the top of the list and pretty much wrote the book on said sub genre. I ask you ; what is not to love about Clint Howard as a killer ice cream man who incorporates his victims into his confectionery? I am quite certain that this is the role the younger and more deformed Howard spawn was quite literally born to play and it's a mystery to me why Clint's titular ice cream man does not show up alongside Freddy, Jason, and Michael Myers on top horror movie villains lists around the web. Simply put, Ice Cream Man ranks among Sperm Bitches, Hungry Holes, and Edward Penishands 3 as one of director Paul Norman's finest works. They just don't make em like they used to!
Just a little bit of trivia before I turn the tables over to you guys .....
One of the writers of ICM, David Dobkin, went on to direct recent comedy hits Wedding Crashers and Fred Claus! Who knew!
Now it's your turn! What's your favorite horror movie guilty pleasure?! Leave a comment with your answer and, if you're feeling up to it, why you chose the movie you chose!