A couple nights ago I stumbled upon a horror podcast site called
Drunken Zombie
, which led me to stumble upon an Etsy shop that was being promoted on there called Zombie Head, which has in turn led me to becoming more or less hooked on Etsy. I've known about Etsy for a while now but I never really realized just how much cool shit is for sale on there until I spent some serious time browsing. The stuff you'll find on there is stuff the likes of which you could never find in a store. For those not in the know,
Etsy
is a site that allows users to create their own online shops wherein they can sell their own handmade items. Jewelry, clothing, dolls, paintings, you name it someone is making and selling it on there. So after seeing so many cool items on there that could probably use a little promotion and spreading of word, as that is what an individuals Etsy shop pretty much thrives on, i've decided to start doing a recurring feature on here where I will post about all the cool horror related Etsy shops/items I stumble upon in my searches. Sound good? Good!
What better way to start this feature than to talk about the afformentioned Zombie Head, which started my Etsy fascination!
The Orlando, Florida based Zombie Head, founded and run by artist and hairdresser Krystal Osborne (along with her boyfriend Jim, who takes care of the web and marketing side of things), specializes in "grotesquely detailed undead adornments" which are mostly for the female horror fans out there (although they can be worn by anyone). They're all incredibly unique and one of a kind handmade items fashioned out of super sculpey which are then baked for strength and hand painted with intricate and gory detail. From beads to pendants and from bracelets to earrings, Zombie Head has got it all and to say these aren't your average feminine accesories would probably just about be the understatement of the year! When they say "you wont find another shop or site with such horrifically sculpted hand made items", you better believe it! So how did the hideous creations come about? In the words of Krystal, who was nice enough to answer a few of my questions, "I just started making them one day cause I was broke and needed to make Christmas presents. And also I never found gross jewelry that I wanted to wear so I said screw it, i'll make my own. Jim liked them and thought about selling them online so he started all that and it just grew from there." In the little over three years they've been in business, Zombie Head has already been featured in the pages of genre magazines such as Girls and Corpses, Fracture, Synergy, and ShriekFreak Quarterly and Krystal, who is creating on a nightly basis after her hairdressing job, has no plans of slowing down. "I just want to make monsters. And i'd like to make money and have fun and not be ripped off". She went on to say that she wants everyone to know that her and her boyfriend "work hard to please our customers and make all your gross jewelry fantasy's come true." Gotta respect and appreciate that!
Let's get to the good stuff and take a look at a couple of the items they have for sale that caught my eye, shall we!
'Freddy Krueger Skin Bangle Bracelet'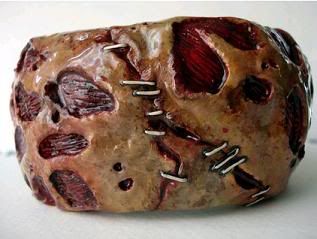 'Circus Freak Cannibal Carnival Clown Earring'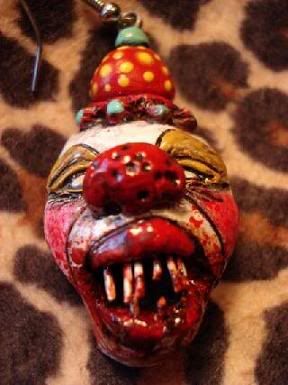 'Cannibal Pig Head Pendant'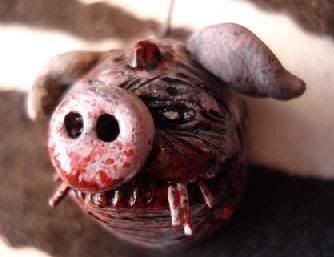 And of course, a couple of the items they specialize in, the zombie heads themselves! I present to you two of my favorites...
'Handsome Devil Blister Baby Pendant'
'Lost Teeth Big Eye Zombie Head Pendant'
These are just a mere few of the 175 items up for sale in the shop. If you want to browse the whole selection or pick any of these bad boys up, head over to
ZombieHead.etsy.com
! Even if you don't see something that suits you to a tee, Krystal takes requests, so the possibilites are endless! You can also keep up to date with and learn more about Zombie Head on both
MySpace
and
Twitter
! If you're in the Orlando area, be sure to check them out at the Audubon Park Community Market from 5pm to 10pm the first Wednesday of every month and you can also catch them this coming October at both Screamfest and Spooky Empire's Ultimate Horror Weekend!
Stay tuned for more Etsy handmade horrors to come!