***Click
HERE
to read my review of MBV 3D when I saw it in the theatre and in 3D***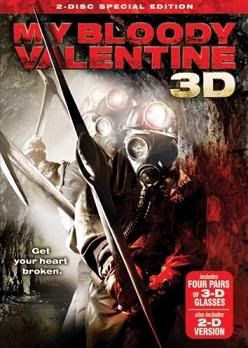 When I originally saw/reviewed MBV 3D, my main gripes with it were with the 3D gimmick itself. For whatever reason, 3D just does not work well with me. It never has and i'm starting to realize it never will. My eyes get blurry, I get double vision, I get a headache, and can't focus on what's going on on the screen. So what should've been a fun experience for me turned out to be not so much fun and I just wanted to take the glasses off and watch the movie in regular 2D. I still wasn't sure if I just wasn't feeling the movie period or if the 3D ruined it for me all around but I was pretty sure that the movie would be a lot more fun and enjoyable in 2D and thank god for DVD because I just watched it in two dimensions and I gotta say, it's a pretty kickass movie. There's very few scenes in the whole runtime that don't contain some kind of violent and gory act and really, who can complain about that? From a midget getting stuck to the ceiling via pickaxe to the legendary Tom Atkins getting his jaw ripped off to a fully naked chick running around....fully naked, it's all a pretty fun rollercoaster ride. Granted it is faulted. I still don't like Kerr Smith and the twist ending still sucks (although i'm warming up to it with each viewing) and they still should've used the original MBV theme song, but I just wanted to post this to say that I now consider myself a fan of this movie and that my previous review is a little unfair due to the fact that I was seeing double vision when I watched it that first time. I wish like hell I could have as much fun with the 3D version as most can, but I prefer the 2D myself.
***SPOILERS BELOW***
By the way, the alternate ending is essentially the same as the regular ending. The only difference is that when Tom kills the rescue worker, he envisions that the guy is "The Miner". As for the deleted/extended scenes, there's really nothing exciting to note.
And that's all I wanted to say about that!