***In the few short months that I wrote for
Benevolent Street
, a horror site which was regularly updated for only a few short months (but which still exists and gets an update from time to time..albeit not from me), I wrote a couple articles on some cool stuff that I was pretty proud of but I ended up actually regretting not just writing them for my own blog. Nothing against the site, which is run by a friend of mine, it's just that i'd rather pour my time and energy into my own thing, which is why i'll be sticking to my own thing from now on (unless of course I get an offer from someone like a Fangoria!). But anyway, that site kinda died and I can't help but feel like those articles I wrote were just lost and ultimately wasted. This is one of those articles, which I wanted to share with you guys because it's a pretty interesting topic that i've seen no coverage of elsewhere on the internet, which is quite frankly a damn shame!***
_________________________________________________
Guys, have you ever sat back and watched a horror movie and had a strong desire to smell like the maniacal killer on screen? Ladies, have you ever wanted to smell like the hopeless victim running from that killer? Either of you, have you ever wondered what the essence of pure fear itself would smell like? Well ponder and desire no longer! Last House on the Left baddie David Hess is here to quell your curiosities and make you smell like your favorite horror killer or scream queen!
Hess has teamed up with Love Potion Fragrances to create and distribute a limited edition line of very special colognes and perfumes, fittingly titled
Hess's House Of Scents
! I think The Last Scents On The Left would have been more fitting but that's just me and i'll admit my penchant for naming products was never so great. But before we get into the different fragrances that he has concoted for us, let's learn a little backstory on David Hess, shall we?
(Whattsa matter? Not the mug of a man you'd expect to make perfume?)
David Hess not only played uber-bad guy Krug in Wes Craven's 1972 cult classic The Last House On The Left, but he's also starred in several other cult horror flicks that you might know of. Ever heard of The House On The Edge Of The Park? That was him. But besides movies, Hess is also an accomplished songwriter and musician. Remember that song The Road Leads To Nowhere from Last House and Cabin Fever? That was him too. How about the Elvis hit All Shook Up? Well that couldn't have been Hess too, right? Wrong! He wrote that song, which was then performed by and credited to The King! Well i'll be damned!
So now that we know a little bit more about the man behind the fragrances, lets get back to the fragrances themselves. Hess has come up with three different scents, which are as follows....
MANIAC for men - Unleash your inner lunatic!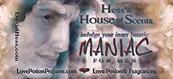 I wait for you. My senses, sharp as an axe, fill with the scents of the damp earth around me - sandalwoods, leaves of ivy, fern and tobacco. The sensuality of the aroma envelops you, captures you, makes you yearn for me as I burn for you. Come to me, I am your maniac.
VICTIM for women - For the shameless hussy who deserves it!
Tease, tease, tease. An innocent look that really may mean more follows a whisper of honeysuckle and sweet herbs. Closer, I catch a breath of lilac, rose, orchids & greenery while you take in my pleading gaze. The erotic heart of vetiver and amber finish me off. I am your victim…
The smell of FEAR - A primal scent for men or women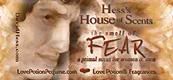 A whisp of citrus chills the back of your neck and lets you know that something is there. Then, an exotic Asian medly fills your senses - ginseng, bamboo, green tea - makes your head turn, you feel it creeping up on you. As your breath turns shallow, and your heart beats rapidly, you face it head on...the deep and animal aromas of ambergris, oak moss, and musk. Face your fear.
You can purchase the scents directly from David's
website
or from
Love Potion Fragrances
. They're gonna run you $19.95 a piece, for a 5ml roll on bottle, or you can purchase a sample set for only $12.95 which contains small sample bottles of all three scents. PLUS! When you purchase any of these, you will receive a FREE limited edition postcard signed by David Hess himself! You just can't put a price on that!
_________________________________________________
Pretty strange, eh?! You must at least appreciate those brilliant smell descriptions the folks at Love Potion came up with!
In related David Hess news, I just found out that he's gonna be at Fangoria's Weekend of Horrors in the city next month (June 5th-7th), which i'm pretty excited about. I've spoken to him a few times on MySpace and i've wanted to meet him for quite a while, so that'll be cool. Hopefully he's got some fragrances for sale cause I sure wouldn't mind trying a bottle out! Or at the very least displaying one on my shelf...