When one contest ends, another begins! I may have missed the boat on Free Comic Book Day by a couple weeks but that's not gonna stop me from giving away a free comic book today! Comic book writer/creator David Doub was nice enough to supply me with a copy of his new vampire graphic novel
DUSK
: Vol. 1
to give away to one lucky Freddy In Space reader and that's exactly what i'm gonna do! But before we get to the giveaway, let's learn a little bit about Dusk!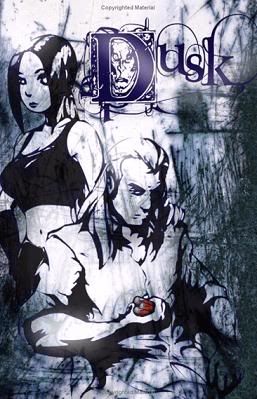 As a battered wife, Eve's only concern was to keep her marriage together. But when she is kidnapped into the sordid supernatural world of vampires and foul magic, Eve finds she doesn't want to leave. Her mysterious benefactor, the Vampire Lord Ash, wishes her to have a normal life but Eve chooses to stay in the service of Ash. Dusk is the stories about Eve and her challenges living in the darkness. Dusk is a supernatural action/drama story done in a dynamic blending of the sequential art styles of American Comics and Japanese Manga. Several artists help tell these stark noir tales of Vampires and Unrequited Love. 100 Pages.
To purchase a copy of Dusk or to learn more about it, head on over to
Amazon
. And if you want to find out a little bit about its creator, David Doub, you can check him out over on
Comic Space
, where you can also take a gander at the first chapter of the comic.
Want to snag a free copy of the graphic novel that Comics Bulletin says is "one of those comics where a reader can sense a creator playing with ideas that could really pay off into something special"? Here's all you have to do!
Leave a comment below telling me your favorite vampire movie of all time. Please include your e-mail address with the comment so I will be able to contact you in the event of you winning! Deadline for entries is next Thursday, the 21st. Next Friday I will throw all the entries into a hat and randomly select a winner!
Good luck to all!