This week's discussion topic was suggested to me by loyal reader and one of my favorite commenters, Bjornabo. If anyone else out there has a topic they'd like to see discussed one week on here, feel free to e-mail me your own suggestion at mortis45@aol.com! This weeks question is....
What is your favorite piece of horror memorabilia/merchandise that you own? It can be a t-shirt, a DVD, a prop, an action figure, or whatever you can think of that is in your collection that you cherish the most.
For me it's a no brainer but i'm gonna use this opportunity to show three pieces from my collection that I am most proud of. But first, my favorite of them all. It's no secret that Freddy Krueger is my guy so naturally, this bad boy is the item in my horror collection that I cherish the most .....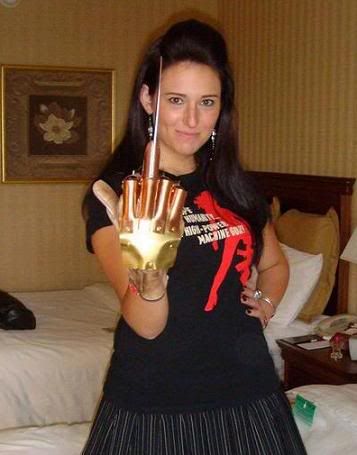 Yes folks that is a handcrafted metal and leather clad replica of Freddy's glove from I believe the original Elm Street. I must mention that the glove was purchased by my girlfriend Jen (who you see modeling it above) and thus it actually belongs to her, but we more or less live together at this point and what hers is mine and vice versa and besides, it resides at my house. Granted she does threaten to take it away and bring it over to her place whenever she's mad at me, but that's a whole nother story. We had been drooling over this glove at a Monster Mania convention last year but neither of us was willing to pay the $125 price tag, even though that was a bargain given it was a convention special price and the glove usually goes for $150. Towards the end of the week, Jen haggled the guy down to $100 and here it sits. Robert Englund was at that paricular convention and we had planned on taking a picture with him wearing it and getting it signed by him, but the line was way too long so we bailed on that idea. Hopefully sometime in the future that will happen. I wish I could tell ya the company that crafted this glove but I honestly don't remember and can't seem to find out that information anywhere. All I know is there are plenty of Freddy replica glove makers out there and for $100, this is about as good as it gets (it's finely detailed right down to the rips and tears on the
back
). So thank you Jen for fulfilling my lifelong dream of one day having Freddy's glove on my own hand!
By the way, be sure to check out
Nightmare Gloves
. They make the best replica Freddy gloves out there and they have one for almost every movie in the franchise. They also run for almost $300 but I guess ya pay for the best!
We can't leave the J-man out so next up we've got the first item I ever got Hancocked at my first horror convention (Horrorfind Weekend), a Part 7 Jason replica mask signed by Kane Hodder (and again, modeled by Jen)!
I would like to eventually get it signed by everyone who has played Jason but I always hesitate to do that because it'd cost about $20 per person and that's quite the committment given how many people have played him. What i'll probably do is just get it signed by them one by one as time goes on and slowly build it up rather than splurging all at once. Most of the guys who have played Jason are at every convention I go to, so I don't think it'll be hard to track them down. Then again i've met and seen most of those guys since getting this mask years ago and I never once had one of them sign it so maybe it'll never happen. I guess it's just a matter of remembering to bring it with me.
And then finally we have this mask/busts of sorts that I bought on Ebay years ago, under the title "Demon Girl Mask"....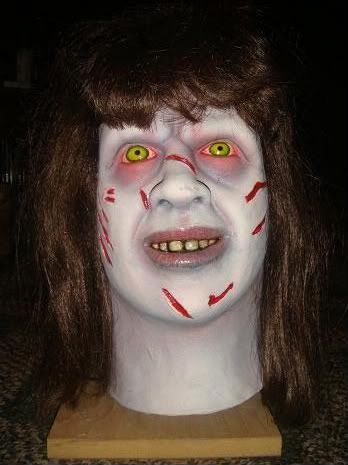 It doesn't take a rocket scientist to realize that this mask was made in the likeness of Regan from The Exorcist and was named simply Demon Girl to avoid licensing/copyright issues. Kinda like those plastic Freddy gloves that are bootlegged and packaged up as "
Fright Gloves
". This was another $100 purchase but well worth every penny for the amount of detail put into it. You can't really wear it as a mask unless you have a pinhead (and there are no eye holes anyway), but it makes an awesome room decoration when displayed as a bust. I've had many people ask me how I sleep at night with this thing staring down at me!
So what are you favorite pieces of horror merch that you own? Leave a comment and let know!