As usual I am only going to be discussing the DVD releases from this month that I personally have interest in or want to check out. If you want to see every single horror DVD coming out in the month of June or any month for that matter,
Amazon
is the best place for that. It's not gonna be a very big or great month for horror DVD's so this will be fairly short.
Click any of the title links to be taken to the Amazon.com pages for each release, where you can learn more about them, read customer reviews, or pick up/pre-order copies of your own!
__________________________________________________
JUNE 2ND
Razortooth
Deep in the Florida Everglades, something is alive that should have died eons ago. Something is feeding when it should be full. Something is moving, in ways that seem all but impossible to pursuers. It's moving in the dark...under the surface of the waters…with an appetite that makes no distinction between man and beast. Now it's up to an unlikely band of locals, an animal control officer, a small-town sheriff and a scientist's team of college youth to stop the threat...before it's too late.
I've made it no secret that I hate CGI. But when I say I hate CGI, i'm mostly referring to bad CGI in good movies. When it comes to bad CGI in bad movies, I can't seem to get enough it (ie : Shark Attack 3). Give me a really awful movie with a totally CG'ed killer sea monster and i'm in heaven. Judging by
THIS
trailer, that's precisely what Razortooth is going to provide and that's precisely why I will be checking it out.
__________________________________________________
JUNE 16TH
Friday The 13th Extended Killer Cut - DVD
& Blu-ray
I wouldn't call myself the biggest fan of the Friday remake, but I certaintly enjoyed it and will definetly be picking it up the day it comes out. I have a feeling this extended cut is going to be a lot better and more complete than the one we all saw in theatres. From what i've heard, it's supposed to be essentially a whole different movie and I can't wait to check it out.
Friday the 13th Part 2 - Blu-ray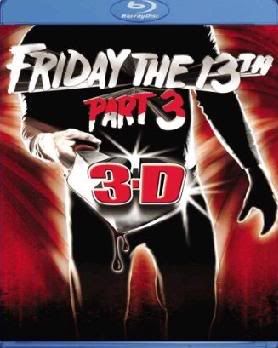 Friday the 13th Part 3D - Blu-ray
If these two releases look as good as Part 1 did on Blu, then we're all in for a real treat. I'll be honest though, i'm kinda over the whole Blu-ray thing, especially when it comes to older releases. Standard def DVD upconverted on PS3 is good enough quality for me and most of these release don't even look all that much different to me in high def. Am I alone on this opinion? I'm not saying i'm never gonna buy another Blu-ray again, i'm just saying that it's not really worth the extra cost for me when it comes to most movies.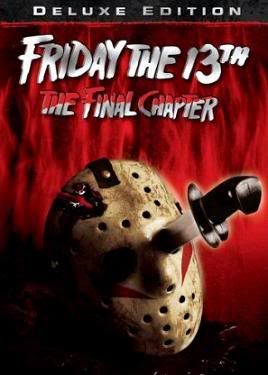 Friday the 13th: The Final Chapter Deluxe Edition
* Audio commentary by director Joseph Zito, screenwriter Barney Cohen and editor Joel Goodman
* Fan commentary by Adam Green and Joe Lynch
* Slashed scenes
* The Lost Ending
* Jason's Unlucky Day: 25 Years After FRIDAY THE 13TH: THE FINAL CHAPTER
* Lost Tales from Camp Blood--Part IV
* The Crystal Lake Massacres Revisited--Part I
* Jimmy's Dead Dance Moves
* Original theatrical trailer
Friday the 13th, Part V: A New Beginning Deluxe Edition
* Audio commentary by director/co-screenwriter Danny Steinmann with cast and crew
* New Beginnings: The Making of FRIDAY THE 13TH PART V: A NEW BEGINNING
* Lost Tales from Camp Blood--Part V
* The Crystal Lake Massacres Revisited--Part II
* Original theatrical trailer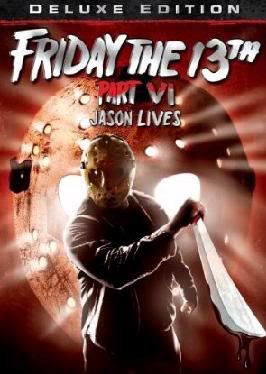 Friday the 13th, Part VI: Jason Lives Deluxe Edition
* Audio commentary by writer/director Tom McLoughlin with cast and crew
* Slashed scenes
* Jason Lives: The Making of FRIDAY THE 13TH PART VI: JASON LIVES
* Meeting Mr. Voorhees
* Lost Tales from Camp Blood--Part VI
* Crystal Lake Massacre Revisited--Part III
* Original theatrical trailer
I'm getting kind of tired of Friday the 13th special features as they all tend to be the same and I pretty much know all there is to know about all of the movies at this point (thanks in large part to the great book Crystal Lake Memories), but I will DEFINETLY be picking up Final Chapter for the Adam Green/Joe Lynch commentary alone. It's my favorite in the franchise and I love those two guys and cannot wait to watch it with them!
__________________________________________________
JUNE 23RD
Hobgoblins
A group of hobgoblins, who allow you to live out your fantasies but kill you in the process, escape from a studio vault and a security guard and his friends must stop them before dawn.
I've never seen this Gremlins ripoff from 1988 that Mystery Science Theatre made infamous but I wanted to mention it because I think it's so cool that they decided to stick with original VHS looking art for once on a DVD release. That's something I wish we could see more of as there really is nothing better than old school VHS horror art. Is that enough for me to want to seek this one out? Why yes, yes it is. It was released on an individual DVD aside from the MST box set release but that disc has been discontinued so it's also cool to see it getting another solo release. The brand new never before seen
Hobgoblins 2
will also come out on this date, with equally enticing VHS'y art.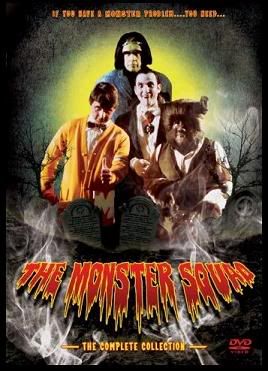 The Monster Squad: The Complete Collection
The series stars Fred Grandy as Walt, a criminology student working as a night watchman in a wax museum. To pass the time, Walt builds a prototype "Crime Computer" in a mummy case near an exhibit of legendary monsters. When Walt plugs in his Crime Computer, "oscillating vibrations" bring to life the wax statues of Dracula, the Werewolf, and Frankenstein. The monsters, wanting to make up for the misdeeds of their pasts, become superhero crimefighters who use their unique abilities to challenge and defeat various supervillains.
I had never even heard about this series until just now but it came out in 1976 so one can assume The Monster Squad, the flick, was loosely based off of it. I'm a big fan of the movie and this sounds like a fun little show that's definetly going on my Netflix queue. Has anyone seen this?
__________________________________________________
And that is all! What releases are you most looking forward to this month?