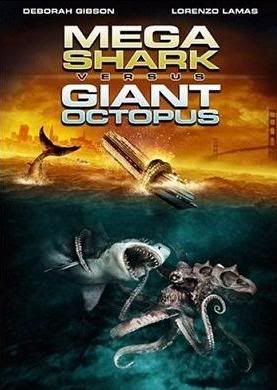 "Woooo! Who wants shark skin boots!!"
I realize i'm a little bit late on this review as pretty much every horror blogger out there has already let their thoughts be known on this monsterpalooza, so i'll keep this short and to the point.
Mega Shark vs Giant Octopus dissapointed me.
Now it's not that I expected it to be a great movie or had very high expectations at all going in. But I
was
expecting one thing ; poorly CGI'ed sea monsters tearing shit, and each other, up. It's all I wanted. And if I got it, i'd be the happiest man alive right now. But ya see, there's just not nearly enough mega shark, giant octopus, or mega shark vs giant octopus in Mega Shark vs Giant Octopus. The two sea beasts combined have a total of about 3 minutes of screen time and only about 50 seconds of that is spent on them actually battling it out, in a highly anticlimactic (and looped) fight scene. The movie is more like mega shark and giant octopus vs Debbie Gibson, Lorenzo Lamas, and a guy trying way too hard to be the late Chris Penn's Nice Guy Eddie character from Reservoir Dogs (seriously, this dude that comes in towards the end of the movie sounds EXACTLY like him). I think the main problem here is that instead of Asylum reveling in the campy fun of a giant shark and a giant octopus kicking each others slick wet asses, they took themselves way too seriously and tried (and failed) to make a 'real' movie. If you're gonna make a movie with a title like this, have some fun with it!
So what could've been the most epic best worst movie ever made turned out to be nothing more than a few laughs and two cool scenes (
shark vs plane
&
shark vs Golden Gate Bridge
). If the whole rest of the movie were like those two scenes, it'd probably be my favorite movie of all time. My advice is, unless you've got friends and some beer to watch it with (drinking game to come!), stick to simply watching the
MSVGO trailer
.
If you want to check it out for yourself, you can pick up
Mega Shark vs Giant Octopus
on Amazon today. I guess it's kinda slighty sorta fun....