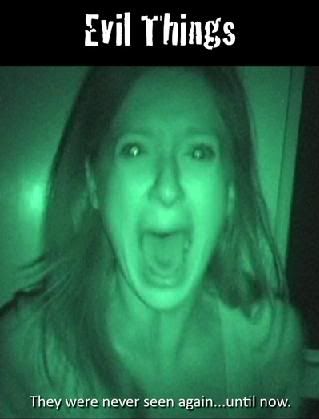 My buddy Zach just posted this over on his blog
Terror Firmer
and I figured i'd mention it on here being as i'm a fan and supporter of this movie. Dominic Perez' independent handheld horror flick Evil Things will be screening Friday, July 10th, in Bellmore NY. Here's all the info :

Long Island International Film Expo
EVIL THINGS SCREENING
Friday July 10, 2009 (9:30pm)
Bellmore Movie Theater
222 Pettit Avenue
Bellmore, NY 11710
516-783-3199
All Tickets $9.00
Advance Tickets: http://liifilmexpo.org/
Tickets also available at Box Office on night of the screening.
Bellmore Theater is across the street from LIRR (Bellmore station stop).
If you live in the New York area, I highly recommend you go and check this movie out. I had the chance to see it a month or so back and I loved it. You can read my review
HERE
. Up till now, only those who were sent screeners have been able to experience Evil Things, so this is an opportunity you should not pass up if you can make it out there. Bellmore is about a couple hours away from me, so I hope to be a part of this special screening.
Congratulations Dominic on getting your movie up on the big screen! As I said in my review, it's only a matter of time before this movie takes over the horror world!