Just wanted to post a quick reminder for those who may have missed my post last week about this or forgot about it....
I started a True Blood Season 2 discussion post that can be found on the sidebar at all times. This is where I will post my thoughts on new episodes of the show and where you guys can come and discuss the episodes with me whenever you'd like. Just head over to the sidebar on your right and scroll down a bit till you see this image :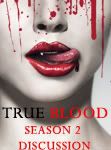 Click that icon and get in on the discussion! If you're the forgetful type, you can
CLICK HERE
to subscribe to the feed for the comments section of that post and you will be notified whenever I post my thoughts on the next episode or whenever a new comment is made over there.
Judging from the small amount of comments to that post from only a select few people, it seems like not a lot of you guys watch True Blood, which kinda surprises me. Or maybe some folks just don't care to comment, which is fine too. Just out of curiosity though, how many of you guys are into True Blood? Leave a quick comment and let me know!
By the way, how crazy is this. You can ALREADY pre-order
Troe Blood : The Complete Second Season DVD
on Amazon! The episodes just started airing a week ago!