The 8th annual New York Asian Film Festival has been running in New York City for the past week and a half (kicked off June 19th) and has already premiered a host of new Asian flicks the likes of the hotly anticipated Vampire Girl vs Frankenstein Girl, Yoshihiro Nishimura's follow up to Tokyo Gore Police. Among the over 50 new films debuting at the fest, a very special event appropriately dubbed 'Tokyo Gore Night' took place last night and Jen and I were lucky enough to be in attendance. Tokyo Gore Night was billed as follows :
"One of the most insane new voices in cinema is the screaming howl of Yoshihiro Nishimura, director of TOKYO GORE POLICE, and special effects genius (who also did the effects for LOVE EXPOSURE and SAMURAI PRINCESS, screening in this year's festival). He couldn't join us for the premiere of TOKYO GORE POLICE last year so for one weekend only we'll be hosting him at the New York Asian Film Festival and holding a special TOKYO GORE NIGHT event. First up will be screenings of several completely nuts short films from Nishimura and his cabal of lunatics all set in the TOKYO GORE POLICE and MACHINE GIRL universe. Then there will be a special onstage presentation by these madmen followed by a screening of TOKYO GORE POLICE during which we'll record a live audio commentary for the movie's upcoming special edition DVD. Accompanying Nishimura will be Noboru Iguchi, the director of MACHINE GIRL and the maniac responsible for the short film SHYNESS MACHINE GIRL which we'll also be screening that night. Also coming will be Tsuyoshi Kazuno, a visual effects supervisor on SAMURAI PRINCESS, MACHINE GIRL and many others. More surprises are in store, so make sure you wear something that you don't mind getting soaked with blood."
Living just a few short hours from the city, this was an event I could not pass up. I'm a huge fan of Machine Girl but had never actually seen Tokyo Gore Police and I figured on the big screen with the director in the house providing a live commentary would be the perfect way to introduce myself to the flick. So without further adieu, here is my personal experience with TOKYO GORE NIGHT, pictures and video provided by Jen!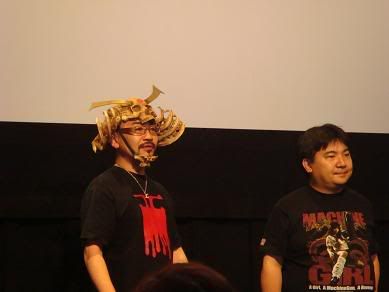 The night started off (at 11pm) with Yoshihiro Nishimura (director of Gore Police - pictured on the left), Tsuyoshi Kazuno (visual effects supervisor of Gore Police), and Noboru Iguchi (director of Machine Girl - pictured on the right), coming out and introducing a few short films that were special features on the Tokyo Gore Police Japanese DVD release. There's actually a video clip of that opening introduction on YouTube so if you want to check that out,
click here
. The shorts were all based in the Gore Police/Machine Girl universes (character spin off stories) and were all pretty whacky, as you can imagine. My favorite of the bunch was directed by Iguchi and was called Machine Girl Lite aka Shyness Machine Girl and revolved around Ami's thought to be dead friend from Machine Girl, who just so happens to have a machine gun that comes out of her ass. Essentially the plot of the comedic film was that a bunch of characters who were clearly brutally killed in Machine Girl somehow survived, patched themselves up, and came after "Shyness Machine Girl", whose ass gun fires off whenever she gets....shy. As I said, pretty whacky and out there, but they were all entertaining in their own fucked up ways.
After the shorts, Nishimura, Iguchi, Kazuno, and a few of the Asian Film Fest staff members paraded out in sumo diapers, for lack of a better term, and proceeded to dance up, down, and around the aisleways (seen above). At this point, Tak Sakaguchi came out, who is probably best known for playing the lead role in Versus. He is also an action director who choreographed the action for Vampire Girl vs Frankenstein Girl. He had a little game in mind, which he carried out ; he was going to throw what looked like acupuncture needles at each of the mens bare asses. If the dart stuck in your ass, you were allowed to enroll in Samurai School. And so he proceeded to throw darts at asses. Those crazy Japanese! Jen caught some of this hilarity on video, which you can see below. You can also
click here
to see a full almost 9 minute clip of the dance and dart game that has popped up on YouTube. Enjoy!
Earlier in the night, while waiting on line, everyone was given a contest entry form to write their name on and the winners were chosen at this point in the night. A set of DVD's and then a DVD of Iguchi's new film, about a girl with a MASSIVE penis (of which a clip was shown), were the two prizes. Sadly, we were not lucky on this particular night.
The trailer of Iguchi's next film, ROBOGEISHA (about, naturally, robot Geisha girls), was then world premiered. Iguchi spent two days cutting the trailer together for the event. Looks totally off the wall and really fun. The trailer would've been a perfect fit as one of the fake trailers in Grindhouse. Will be interesting to see if it can remain entertaining for an hour and a half runtime. I believe that movie will be premiering at next year's Asian Film Fest.
This night was actually Iguchi's 40th birthday, so a surprise birthday party of sorts was thrown for him, which was really cool. A birthday cake, adorned with a penis shooting blood, was brought out (vid above shows Iguchi blowing out the candles, or trying to at least) and gifts were handed out. The gifts in question being an ass fetish book and a strap on chin dildo, which Iguchi proceeded to adorn!
Next it was time for Iguchi's 'birthday spanks', one for each decade he's been around. Four volunteers were plucked from the audience and they were each handed a paddle with the word "bitch" on it, which they used to spank Iguchi on his bare ass, with increasing violence. I've heard of birthday punches, but this is the first i've seen of birthday spanks!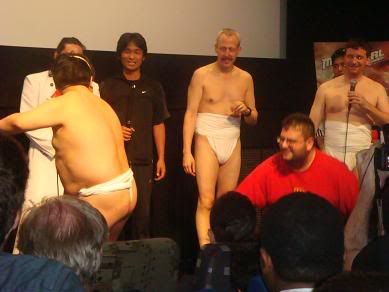 All this madness behind us, it was time for the screening of Tokyo Gore Police, with a live commentary by all the guys along with audience participation. This commentary will apparently appear on a future special edition Gore Police DVD. As I said above, this is the first I had seen the movie and it was cool to see it in this way. The commentary was informative although the guys were all pretty tired by this point, as was the audience, and clearly wanted to get out of there and get to bed. The most interesting thing I learned from the commentary is that Nishimura, who not only directed Gore Police but also did the effects for it and Machine Girl among other films, was self taught when it comes to gore effects. Pretty fuckin cool as his effects are very impressive. Being that it was so late, the guys bailed on the commentary towards the end of the movie and left us to watch the finale with the volume cranked up and no disturbances. The movie is a pretty fun and entertaining ride, even though it gets a little too out there and ridiculous at times even for me. A lot of it doesn't even make sense, a point that Nishimura is well aware of and freely admits. Regardless, all gorehounds should definetly give it a view if they haven't yet.
The night ended with free Tokyo Gore Police posters being handed out, which we snagged a couple of. I believe the guys were gonna come out and sign them but we had a long journey home ahead of us so we headed out of there.
And I think that about covers most of the night. The only complaint I have about it would be that it started too late and went on a little too long. We didn't get out of there until almost 3 in the morning and i'll admit that sleep was on the forefront of my mind for the last hour or so of the movie. Even the director of Gore Police couldn't stay awake to watch Gore Police at that hour, so i'm not knocking the movie in any way. They just should've started this thing a little earlier. All in all, definetly glad I went and Jen and I had a hell of a good time (despite the 2 hour wait for the train home amongst the dregs of New York society that we had to endure). Those Japanese really know how to party and certaintly have mastered the art of entertaining!
The New York Asian Film Festival continues through July 5th. Head over to the
website
for more details and the full schedule.