A bunch of you guys have expressed interest in my endeavors with Troma, so I figured i'd give those who care a quick update on the latest goings on before I hit the hay....
- Firstly, I am still doing volunteer work for Troma. I haven't been into the offices in a good month and a half, but i've been doing a bunch of work for them from home. Still maintaining the Tromasterpiece MySpace, still answering/sending out e-mails, and still doing promotional work. These past few months have been a nice little insight into the company and I enjoy helping out, so I think this will continue for a good long while. I still plan on heading into the city every so often when I can to help out over there and i'll of course let ya know when I do.
- At the moment i'm working on a Troma related article that I just pitched to HorrorHound Magazine and will continue to pitch around to other horror mags in the event that they're not interested, but most likely it'll end up just becoming a blog post on here. It's a cool little idea that I came up with (or at least I think so) and i'd love to see it in print but on here would be cool too. More on that to come!
- Today is actually one of the guys that works over theres birthday, so Happy Birthday to Matt Manjourides! Matt's the director of distribution in Tromaville and today he turns the big 3-0. He's got a blog of his own called
Terror Blogger
, where he posts updates from time to time on what's going on in the Troma offices. Pretty interesting stuff. Definetly check it out and become a follower if you're fan of Troma and Lloyd Kaufman's hijinks!
- Toxic Avenger 5 is coming! It's in its infant stages, but stay tuned!
- Speaking of Toxic Avenger. If anyone lives in the New York area and wants to check out Toxic Avenger : The Musical, let me know. I've yet to see it myself but i've got the coupon code that will get you tickets for only $25 a piece (normal price is over $50 at the cheapest). The deal is good through July 31st only, so drop me a line at mortis45@aol.com asap if you're interested.
- For those that have been following the upcoming release of the Combat Shock director's cut Tromasterpiece Collection edition, hitting the streets July 28th, the cover art has just been changed. What once looked like this :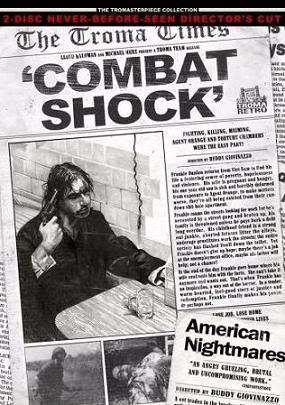 Now looks like this :
I remember when I was shown that first cover a few months back I thought it was one of the coolest DVD covers i'd ever seen, so the idea of changing it seemed kinda silly to me. But I really like this new one too. Although if I were in charge, the new art probably would've been a slip cover over the old. Which one do you think is better?
You can pre-order your copy of Combat Shock from Amazon for $17.99 by
clicking here.
- And finally, in Combat Shock related news, the boys over at Troma just posted this pretty funny old school video of Wrong Turn 2 director Joe Lynch, under the name Combat Jacques, cooking up a nice little Troma inspired meal. I leave you with a very special (and probably the only) episode of Cooking With Combat Jacques!
For more Lynch fun, check out the Freddy In Space Hit List on the sidebar to your right for the brand new episode 2 of Attack of the Show's Body Count, where he gives his thoughts on Argento's Deep Red, Martyrs, and Behind The Mask! Also don't forget to pick up the just released
Friday the 13th Part 4 : The Final Chapter Deluxe Edition DVD
which features a fan commentary by Lynch and Hatchet director Adam Green!