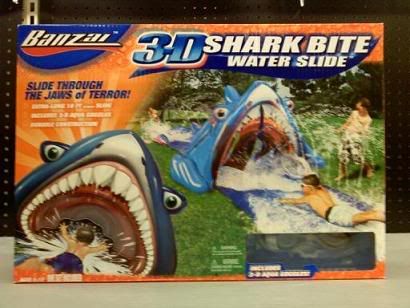 Encountered this bad boy at Target this past weekend and although Jen talked me out of shelling out the 30 bucks for it, I had to snap some pictures with the camera phone and let you guys know about this genius slice of summer fun. It's a water slide that leads into a GIANT 3D SHARK MOUTH! Now it must come with a cheesy cardboard pair of 3D glasses that would surely fall off your face the minute you slide down the wet slide, right? Wrong! The 3D Shark Bite Water Slide comes with 3D WATER GOGGLES!!!
I can't say for certain whether this is the first pair of 3D water goggles on the market, but it's certaintly the first pair i've come across. Gotta wonder how well they would work when it comes to watching a 3D flick indoors....
The back of the box is really what confirms this as the best product ever invented :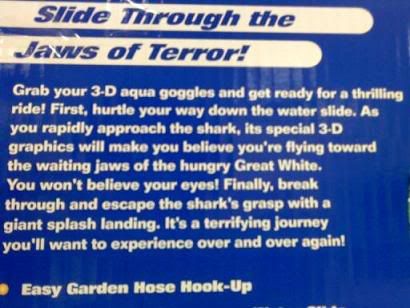 "As you rapidly approach the shark, its special 3D graphics will make you believe you're flying towards the waiting jaws of the hungry Great White". Is that not every kids dream!
Although it's probably for the best that I was talked out of buying this, I still can't help but wonder what it must be like to slide into the jaws of a giant 3D shark and thankfully
Amazon has the slide on sale
for only $19.99, so I just might be experiencing that thrill before this summer comes to a close! But whether I ever get around to it or not, it's just comforting to know that this product is out there and that a whole generation of youngsters are going to be able to finally fulfill their dream of being eaten alive by a giant sea predator. You lucky bastards, you. Where was the 3D Shark Bite Water Slide when I was a kid?!