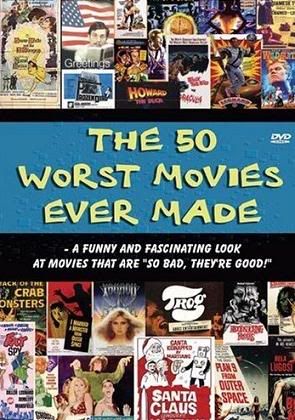 I bought this DVD a long time ago called
The 50 Worst Movies Ever Made
. It's a 60 minute rundown of 50 of the worst movies of all time, along with clips and narration that provide some interesting trivia facts about each. A lot of people have bashed the DVD saying it's too short and it sucks, but i've always liked it and in fact just gave it another watch the other night. Which is where the idea sprang into my head that i'm probably gonna end up regretting.....
I am going to watch 'The 50 Worst Movies Ever Made'. All of them. And i'm dragging you along with me on this journey through the worst of the worst of bad cinema.
My plan is to track down, watch, and give my thoughts on each and every one of these poorly crafted gems for your enjoyment and at my own expense. It's just something i've gotta do. I've always had a fascination with bad movies and this is perhaps the ultimate showing of my love for them. As nice as it will be to share my feelings with you guys on each of them, it's gonna be even nicer to once and for all be able to tell people that I, in fact, have seen 'The 50 Worst Movies Ever Made'.
Being that it could take a while to watch and seek out all of these movies, this is something that's going to be an ongoing thing on here, with no set starting, watching, or ending schedule. I've included a button on the sidebar to your right so you can track my progress with ease. A good portion of these movies are from the horror genre, so this won't be too off topic and besides, I think everyone secretly loves shitty movies and will enjoy this journey!
What are the alleged '50 Worst Movies Ever Made', you ask? Well you'll just have to wait and find out! I will say that first up, coming in at #50, is Ed Wood's tranny masterpiece, Glen or Glenda, which should give you a good idea of just how bad these movies are gonna get. If any Ed Wood flick is ranked the best among 49 other movies, you can imagine the kind of stuff i'm gonna have to sit through over the next several months!
So come along with me, if you dare. The journey begins soon!