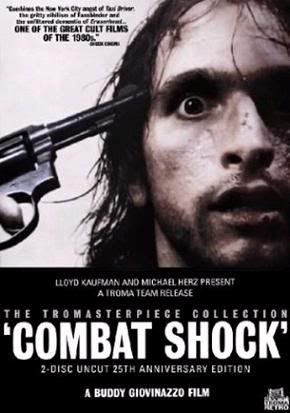 Much like the Slime City Grindhouse Collection (which I reviewed
HERE
), the
Combat Shock Tromasterpiece Collection
DVD comes out next Tuesday the 28th and it too has been sitting on a pile in my room of DVD's to get around to checking out. And much like Slime City, I decided to dig into it tonight and let you guys know if it's worth picking up. Being that I already
reviewed Combat Shock
a ways back, i'm gonna be talking mostly about the special features contained on this two disc set. So grab a glass of curdled milk and sit back and enjoy my tour through the Combat Shock Tromasterpiece Collection DVD, hitting the streets July 28th! For those that are frequent readers of my blog and are sick of me talking about Combat Shock, which I documented many times over in my few months working for Troma, I promise this will be the last time I mention the flick! Well, probably....
Housed inside that awesome cover art are the two discs and Troma, striving to make this the most jam packed release ever, even emblazoned the opposite side of the cover art with notes on the film from Steven Puchalski, editor of Shock Cinema and frequent Fangoria contributer. Gotta appreciate the extra mile they went for this one.
There are actually two versions of the film on disc one of this set ; Combat Shock and American Nightmares. Combat Shock is the cut we've all seen before while American Nightmares is the never before seen until now totally unrated cut, which runs a full eight minutes longer. As if Combat Shock weren't disturbing enough already, eh?! I actually have not watched American Nightmares in full yet but from I understand, it's even more bleak than the version of the film i've seen. Not sure I can even handle that! Disc 1 also includes an audio commentary (for Combat Shock only) with director Buddy Giovinazzo and fellow filmmaker Jorg Buttgereit, from Nektromantik fame. Two of the most disturbing makers of film of all time on one audio commentary while watching one of the most disturbing movies ever made. Sounds fun, eh!
Then we move on to disc 2, which is absolutely chock full of special features. Here's the rundown :
- Post Traumatic : An American Nightmare - Brand new 30 minute documentary exploring the continued impact and influence of Combat Shock. Features interviews with John McNaughton (Henry : Portrait of a Serial Killer), Scott Spiegel (Evil Dead 2), William Lustig (Maniac), Roy Frumkes (Street Trash), and more.- Director Buddy Giovinazzo Interview (4:04)- Unscarred : Combat Shock star Rick Giovinazzo Interview (6:33
)
- Der Combat : Buddy Giovinazzo and Lloyd Kaufman discuss Combat Shock at the 2006 Tromanale in Berlin (4:24)- New interview with Buddy and Nekromantik director Jorg Buttgereit at the 2009 Berlin Festival (7:38)- The Short Works of Buddy Giovinazzo - Five never before released short films ; Mr. Robbie, Jonathan of the Night, Subconcious Realities, The Lobotomy, and Christmas Album, as well as three music videos from the Rick/Buddy G. band Circus 2000 A.D.
Mr. Robbie - 1989 (7:56) - This one stars Maniac's Joe Spinell as a kiddie talk show host by day and a killer by night and is sometimes referred to as Maniac 2. It was Spinell's last film, which only adds to the creepiness of it. Definetly a must see for fans of the king of sleaze (I say that lovingly) and for fans of Maniac, although it's too short to live up to its potential.
Jonathan of the Night - 1987 (12:59) - An unwitting vampire lives an eternity of loneliness and bloodlust. Interesting short with the oddest use of gunshot sounds ever committed to celluloid. Giovinazzo definetly has a distinct style about his films, which I dig. At the end of this short it said a feature film was in pre-production, which I guess never came to fruition.
Subconcious Realities - 1983 (15:26) - A young man's escape from the boredom of reality, through a new mindfuck drug. Another disturbingly freaky piece of work from Buddy G. Go figure! I'd like to take a little mini vacation inside the man's head. Actually no, I probably wouldn't.
The Lobotomy - 1981 (7:13) - Crazed sex maniac goes through a lobotomy. They just keep getting weirder and weirder!
Christmas Album - 1981 (7:04) - A happy Christmas greeting to all young couples. I found this one to be the most amusing of the bunch. A dude puts some kind of demonic record on the player that forces him to kill his girlfriend then himself, but not before ruthlessly bashing her choice of gifts! Pretty humorous.
- Hellscapes - A look at the Combat Shock filming locations as they appear today (2:42)- Combat Shock Tromasterpiece Trailer- Original Theatrical Trailer- Tromatic Extras - Five trailers from other Troma films ; Mad Dog Morgan, Last Horror Film, Story of a Junkie, Blood Boobs and Beast, and Troma's War.
So is it worth picking up? Absolutely. And unlike the Slime City Grindhouse Collection, i'd recommend this to everyone, not just fans of Combat Shock. If you're a fan of Combat Shock you will love the director's cut, the shorts, and all the special features and thus, this is a must own. And if you've never seen Combat Shock, YOU SHOULD. This is probably the best title in the entire Troma library and Troma knows it. With this release, they have given it the treatment it deserves and they have totally piqued my interest in checking out the other works of Buddy Giovinazzo. Job well done, Troma!
It's a steal at only $14.99 on Amazon, so I suggest you
pre-order it today!