This week's discussion question was inspired by me rewatching a particular horror film the other day, which I will get to in a second. But first, the question at hand....
What is, in your opinion, the absolute grossest horror movie moment?
The film that inspired this topic and the one that is of course my personal answer to the question, you ask?
David Cronenberg is the king of gross out horror and The Fly perhaps his most disgusting piece of work. There are countless scenes in The Fly that make me squirm in my seat (even moreso in Blu-ray, which is the format I watched it in the other day) but there's one that has always stuck out for me. It's not Seth Brundle's nails and body parts falling off, it's not him breaking a man's arm in a game of arm wrestling gone horribly wrong, and it's not even the fully transformed Brundlefly spitting up on that dude's hand and ankle. No, no. The grossest moment from The Fly for me tops all of those put together. Geena Davis' character has just found out that Seth Brundle's fly sperm has gotten her pregnant and she wants to swat that ungodly creation as soon as possible. What comes out of her during the abortion? It aint a human baby, that's for sure!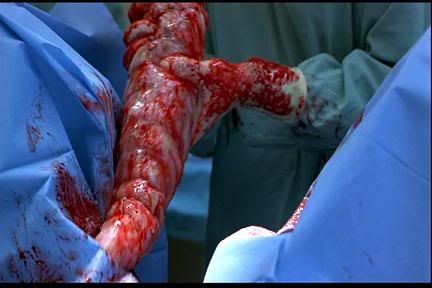 *Give your thanks to YouTube for not allowing me to upload the video clip of this!*
See it's not really the bloody or gory moments in horror movies that gross me out and in fact, I rarely am even grossed out by stuff in movies. But this one has always gotten to me for whatever reason....and i'm a man! I can't imagine how disturbing this scene must be for a woman to watch! You know something vile and disgusting is gonna come out of her, but nothing can prepare you for what actually does. This is one of those movie moments where what the director can imagine is far grosser than what your mind can imagine, which I guess is usually the case with Cronenberg. Of course it ends up that this scene was merely a dream sequence, but that doesn't change the fact that it's seriously fucked up! You can bet your ass that when Jen's lying on the table ready to pop out our demon seed, i'm fully gonna expect to see this thing wiggle out of her. Give me a tard, give me a mutant, but please for the love of god, God, don't give me a squirmy maggot bug sack thing!
Leave a comment and let me know your personal pick for grossest horror movie moment!
And if you want to get in on any past discussions that you might've missed,
CLICK HERE!