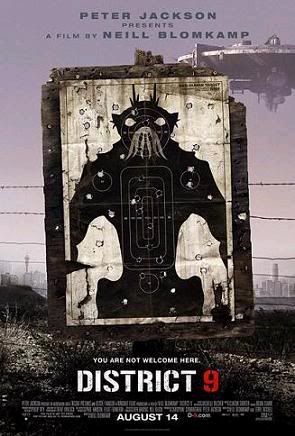 The Peter Jackson produced District 9 is a flick i've been hotly anticipating for a few months now, ever since the awesome Solaris music using teaser trailer hit the net. But when I went to see Orphan last weekend, the theatrical trailer for D9 seemed far different than the teaser I had watched months earlier. It seemed like an entirely different film and while I initially thought it was just me, my brother echoed the same sentiments the next day. The original teaser came off like a drama film where you were meant to feel bad for the homeless and stranded aliens while the full theatrical trailer looked more like a Transformers style action spectacle, rife with giant robots and massive explosions. Now i'm not saying i'm any less excited about the film and my ass is sure as hell gonna be in that theatre come August 14th, but I just thought i'd point this out to see if anyone else felt the same way.
Here is the original teaser :
And here is the new theatrical trailer :
District 9 has been getting nothing but incredibly rave reviews and again, I cannot wait to see it and am no less excited about it than I was before. It's just perhaps going to be a different experience than what I initially expected it to be, and there's really nothing with that. I still fully expect District 9 to be EPIC.