Carl over at
I Like Horror Movies
blogged about this horrific injustice a couple months back as part of his 'Lame Cover Art' series, but it wasn't until last night that I actually came face to face with it and i've been left with no choice but to speak out about it too. I was browsing through my local library's selection, looking for my three movies to rent (three at a time limit), and I came across the below box art....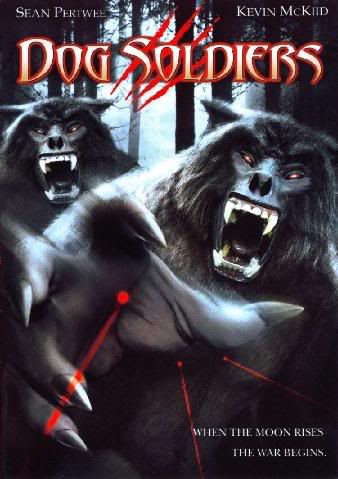 Now that's all good and well....for a shitty SciFi original picture....which Dog Soldiers is far from. Dog Soldiers is one of the greatest werewolf movies of all time and THAT is the cover art they chose to slap on it? As Carl pointed out, those aren't even what the werewolves in the film looked like! Where the hell did this picture come from and how did it get attached to Dog Soldiers!?
Thankfully there are several other cover arts out there for this movie and the recent releases, including the Blu-ray and Steelbook, by First Look Pictures (who in 2005 bought out DEJ Productions ; the ones responsible for this injustice) utilize
THIS
art, but the fact that the above one is out there at all is truly worrisome (that doesn't look like it's spelt correctly, but it is!). How many people do you think have picked the flick up off the shelf and thrown it right back down without a moments thought solely based on that shit art? So help me god, if I have to buy the First Look release out of my own pocket and donate it to the library so that we can get rid of this abomination, I will!!
Moral of the story is, don't let that cover fool ya, Dog Soldiers kicks ass. And if you should ever come across DEJ's release in your travels, BUY IT AND BURN IT and keep it away from those who it might deter from renting/buying the movie!
Update : Oddly enough, DEJ also released Dog Soldiers with
THIS
cover art, which is probably the best of all of them. How they went from that to getting it so wrong, we may never know.