I sprung out of bed bright and early this morning, something I rarely do, because Elm Street producer Brad Fuller reported on
his Twitter page
that the first picture of the new Freddy would be posted to MySpace at 10am. Stupid me forgot that the times vary state by state and what was 10am over in California was 1pm here in New York! You can imagine my dissapointment. Slept off those few hours and awoke again at one and here it is, straight from
MySpace
, the first ever image of Freddy Krueger from the Elm Street remake, portrayed by Jackie Earle Haley!
Really can't tell much by that shot but have no fear, Fuller just Tweeted that yet another picture will be posted to
IGN
this afternoon! Hopefully that one will be a little more revealing, although something tells me they're gonna keep Freddy mostly in the dark until the flick hits theatres on April 16th of next year. I will update this post when the IGN picture hits the net.
In the meantime, here's a little excerpt from Bloody Disgusting's just posted
Elm Street set visit preview
, regarding the look of the revamped Krueger :
"I had all of the photos up, and I have such respect for his face, I really wanted to echo some of the forms," Clement continues talking about the new look. "The thing that we did depart from was the nose. I remember hearing interviews with Kevin Yager or one of the other people who have done the makeup. They were saying they wanted to make him a male witch, which is why they went with the big nose at the time. That kind of made sense, but I just didn't really think it - you never really see Robert Englund prior to being burnt. I knew how much we were going to see Jackie, so I couldn't image making Jackie's nose big all of a sudden. Why would we do that? In the beginning I didn't really know if we were going to have to do a Robert Englund likeness make-up on Jackie. Again, this is a reboot, a fresh start if you will. While Jackie Earle Haley might not look like Robert Englund, one thing you can count on is that Freddy is still Freddy right down to the dirty black boots."
Be sure to read the full set visit preview and be on the lookout for their full full set visit report real soon.
What do you make of all this? Leave a comment and let me know!
*****UPDATE!*****
Here's a tiny picture of a Comic Con banner promoting the Elm Street remake, courtesy of Dread Central staffer
Debi Moore's Twitter
. Be sure to follow her as she's been Tweeting all kinds of pictures from the Comic Con floor!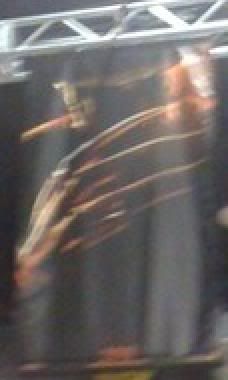 ******UPDATE #2******
Here's a much better quality look at the Elm Street poster, courtesy of IGN. Not sure if this is the second Freddy picture that Fuller was referring to, but it seems like it probably is.
******UPDATE #3******
Click here for a MUCH better look at Haley's Freddy, lightened up in Photoshop, courtesy of Icons of Fright!!