And Jen is here to model it for you! Beats looking at a picture of me, I figured....
Front :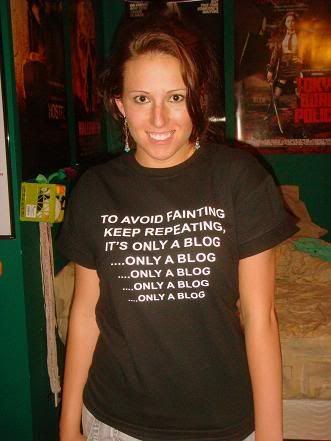 Back :
The good sir over at Image Advertising put the letters on this thing totally by hand and i'm very happy with the way it turned out. As I said in my previous post about this, I will eventually get a bunch of these printed up and if I do that, they will be sent off to a screenprinting shop so i'll be free to modify the fonts or colors or anything I want. Although I think I might just keep it simple as I like the way it looks now. Once I do get a bunch printed up, i'll probably give a few away on here in contests or i'll send them out to those who want them, probably only at the cost of a few bucks to cover the shipping. I wouldn't dare try and charge you guys 20, 15, or even 10 bucks on a shirt promoting my little horror blog. So if anyone wants one, feel free to leave a comment here or drop me an e-mail and once I get them printed up, they're all yours! That is, as long as you promise to wear them and turn yourself into a walking Freddy In Space billboard wherever you go....
Wore the shirt out today and I already got two comments on it. One older woman asking me what a blog was and another dude saying "I don't get your shirt..." but hey, at least it's drawing some kind of attention, right?