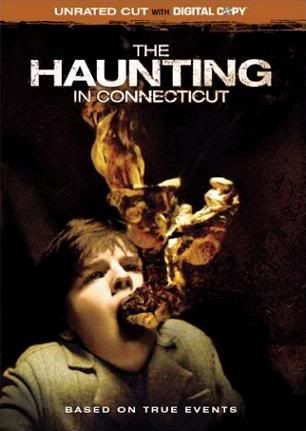 Predictable jump scares. Mirror scares. Flashbacks to prior evils. Seances. A drunk unpresent father. A knowledgeable priest who saves the day. A fiery end. There is nothing about
The Haunting In Connecticut
that we have not already seen a hundred times over in any number of other haunted house horror flicks. It's a total paint by numbers affair that manages to cram just about every single ghost movie cliche into its hour and 45 minute run time and honestly, there's no reason to even bother with it. I will say that Kyle Gallner (glad he's in the Elm St. remake) and Elias Koteas (Casey fuckin' Jones!) were both really good in the movie, but that's about all it has going for it. Unless you've somehow never seen a movie before that involved a couple and their children moving into a new house that turns out to be haunted, HIC isn't even worth a rent. And yes, I watched the unrated cut, so don't be thinking it's any better if you've only seen the theatrical. Although the unrated is almost 10 minutes longer, many of the major differences seem to stem from the coloring of the film.
Click here
for a full in depth look at all the differences between the two cuts, if you're interested.
By the way, if you don't have a Blu-ray player and want to rent this flick unrated, you might have a little trouble finding it. Blockbuster and Netflix seem to only carry the rated DVD for some reason, while the Blu has both the rated and unrated on one disc. I'm thinking maybe the unrated DVD is only available to buy, thus giving non Blu-ray owners some incentive to make the switch? For the record, the movie doesn't impress in high def.
Now the funny thing about this release is that the special features, at least the ones that are on the 2 disc and Blu-ray, are much better and more entertaining to watch than the movie itself. There's a two part 40 minute documentary exploring the true story that inspired the movie, which gets pretty freaky when a crucifix falls off the wall at the exact point the mother is talking about how that used to happen in the house! Perhaps orchestrated, perhaps not. There's a nice little 10 minute look at the history of postmortem photography, called 'Memento Mori', that is highly interesting. It's pointed out in there how in the olden days people looked a lot healthier and more alive when they passed than they do today, thus making their after death portraits look highly creepy but at the same time more comforting to the family members. Due to the medical advancements of our time, which prolong sick peoples lives to the point where they deteriorate and look like a shell of their former selves by the time they die, as opposed to just dying shortly after they get sick, after death photos are no longer so comforting and that's a primary reason they are no longer used as part of the bereavement process. There's also a 12 minute featurette called 'Anatomy of a Haunting', which explores hauntings in general. Aside from that, it's the usual audio commentaries and making of's. Oh, and a Blu-ray trailer for Cabin Fever, which is coming soon!
What i'd suggest is that instead of buying or renting this flick, you should go ahead and
rent
or
buy
(only $4.50!!)
A
Haunting In Connecticut, which is the 2002 Discovery Channel docudrama that
THE
Haunting is essentially a remake of. I haven't watched it in a while but I used to watch it all the time on TV when I was younger and it scared the shit out of me. Just got it in yesterday from Netflix so i'll probably watch it again tonight but believe me, it's far better than the flick that just came out on DVD (and has insanely creepy narration). So if you're interested in the (allegedly) true story, watch 'A', not 'The'.
If you've seen either of these movies, leave a comment and let me know your thoughts!