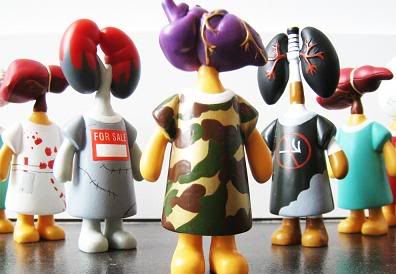 This week, I am giving away not one but THREE of those lovable creations pictured above. The grand prize winner will receive two while the second place winner will receive one. But before we get to that, let's find out exactly what Organ Donors are and who makes them!
Organ Donors are the brain child of unique and visionary artist David Foox, who was kind enough to supply three of his children for this giveaway. In addition to this awesome line of pieces, Foox is also an accomplished painter. I figured rather than try and tell you about the man's work, i'd let him tell you for himself in a little interview I just conducted. Be sure to read this short interview because it contains the key to your taking home one of his Organs!
___________________________________________________
- What was the inspiration for Organ Donors?
Inspiration for ORGAN DONORS came from seeing a man with cystic fibrosis get the set of lungs of an Iron Man Athlete and start life anew. Inspiration can come in many forms but for me they all seem to relate to seeing the beauty in life and knowing that there MUST be some greater design at work - it's just very beautiful.
- Tell us a little bit about the process of making an Organ Donor.
Oh wow... Well, let me tell you it is a LONG and exceptionally indepth process. Firstly, I would like to mention Erick Scarecrow of ESC Toy Ltd for his role in bringing my concept to life. His knowledge of the anime world came in handy and he is a fun guy to work with! Secondly, I should mention that you have to start with a concept. Once you have the concept you then go through a series of sketches and drawings. These start off 2D and then move to 3D. That gives the concept some teeth. Then from there you gotta sculpt and mold each character. That is another reason why ORGAN DONORS was a huge project. We have 24 different characters and 9 different organs! Obviously biting off more than I can chew comes to mind here! The next few steps involve creating the molds and resin masterpieces. These are then hand painted to make sure you got all the colorways sorted. Then from there we move to test vinyls and then production vinyls. In conjunction with this and running parallel is the packaging which is another project in and of itself. We had many time overruns but it was worth it because no detail was spared and every facet of this project was exceptionally well done. I mean the best quality of everything (vinyl, paint, packaging etc). The result is a great product - ORGAN DONORS and one that is popular with vinyl collectors (our audience) and a broader audience interested in organ donation or the gory bits of human beings!
- Are they or will they be available in any stores?
I am doing distribution myself! This is crazy because it involves running retail off our website and also working with shops worldwide. We are in a few different stores such as the Super7, Zues Comics, Tenacious Toys, Wizard Sleeve, Designer Toy Store UK, Modern Art Museum of Fort Worth, Centre in Dallas, 323East.com, Lift Store in Detroit, TeloToys in Belgium, Kidrobot, Munky King, Forbidden Planet in NYC, and I think quite a few more places. I actually lost my distribution list so I am going off memory here... :)

- When did you start making art and can you tell us a little bit about the kind of art you create?
I create art that tries to bridge the gap between the power of man made symbols and the beauty of a just and true God. That sums it up nicely! I specifically enjoy believing that creating art is similar to the act of God in creating life (albeit infinitely smaller) and therefore treat each of my "creations" (paintings) with love and affection. I don't get to celebrate them long though because they are usually sold shortly after or before creation. Such is the life of a starving artist! I should also add that I am in a transitional period right now with my painting and while I do have a few different ideas in my head, my next series will be quite different and perhaps more expressive of this transition and the things I have learned throughout.
- Anything else you'd like to share?
I do have some big news that I have been keeping under wraps. ORGAN DONORS is going to CHINA. Yes that's right! I am releasing a very limited edition of ORGAN DONORS CHINA in time for CHINA's 60th Anniversary! This is a huge deal and it will see me jetting off to CHINA later this year for the launch and toy signings. The Chinese edition will see the introduction of two new characters. I have spent the last few months working on this project and the two new characters are going to be rares and really they are very gorgeous - you'll see!
You can learn more about David Foox, his art, and Organ Donors at his website
FOOX-U.COM
. You can also check out a small feature on Organ Donors in the new issue (#91) of Rue Morgue Magazine.
___________________________________________________
Each figure is packaged in a blind box format, meaning you won't know what Organ Donor you have received until you open it. Interested in snagging a mystery Donor up for yourself? Here's how you can!
* First, you must become a follower of Freddy In Space. If you already are, then move on to the next step.
* Send me an e-mail at mortis45@aol.com with the subject "ORGAN DONORS". In the body, include your address and the answer to the following question (which is answered in the interview above) :
What material are David Foox's Organ Donors made out of?
Make sure to get your entry in by next Tuesday, July 14th. On that date, I will draw the names of the two lucky winners. This contest is open to residents of the United States only.
Good luck!