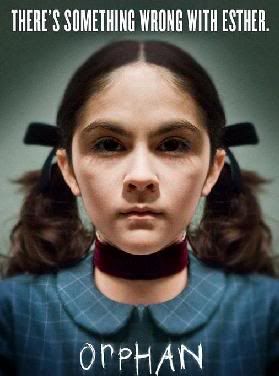 I've gotten a lot of flack over the years for loving Jaume Collet-Serra's first flick, the remake of The House of Wax, but something tells me a hell of a lot more people are gonna be on my side this time around. I just got back from seeing Orphan and I absolutely loved it as did nearly the entire theatre who were cheering, clapping, laughing, screaming, and oohing and aahing away. I really don't wanna say much about it because this is one of those flicks you should go into knowing as little about it as possible but if you trust my opinions when it comes to horror movies, I promise you are not gonna be let down in any way shape or form if you decide to drop your hard earned 10 bucks to find out Esther's secret. I actually had afformentioned secret spoiled for me a few days back (ok, so I asked for it) but it really didn't matter at all. I was kinda afraid that knowing how it was gonna turn out would ruin the experience but thankfully it did not in the least. That being said, I am not encouraging you to go IMDb the secret. Go find out for yourself!
Speaking of Esther, my god, Isabelle Fuhrman has brought to the screen a new horror icon that puts pretty much all other evil kids of past to shame. Damien who!? This is one evil pint sized bitch and I loved every second of her brilliant performance. The flick basically hinges on this 12, yes 12, year old's acting ability and she sure delivers. Even if the rest of the movie sucked, it'd be worth seeing for her performance alone. For the record, when I was 12, I was eating dirt in my backyard. I'd say Ms. Fuhram has got one hell of a career ahead of her. Also gotta give serious props to the couple other kid actors in this flick, who turned in far more impressive performances than one would expect or is used to seeing from kid actors. The acting was amazing all around the room and for once in a horror movie, I truly cared about pretty much each and every character on the screen. Go figure!
Now I know, I know. You're all sick of the evil kid trend in horror movies. Believe me, I am too. Have no worries because Orphan pretty much turns the idea on its head and is one of the best entries in that sub-genre to date. In fact, it would not be too out of line to call Orphan the Omen of this generation. I mean it.
Orphan is a perfect blend of dark humor, scares, drama, gore, intensity, and edge of your seat thrills ; pretty much all the ingredients I want to see in a horror flick. And when I say it's intense and edge of your seat, boy do I mean it. I was totally gripped from minute one and the last half hour or so is some of the most intense cinema i've experienced in a long while. Sure there are some annoyances like jump scares and characters doing stupid things, but this is a horror film afterall and such things are to be expected. I really have no complaints whatsoever about the film.
One last thing ; I am happy to report that the line that has been causing much controversy lately, "It must be hard to love an adopted child as much as your own", was not taken out of the film like it was taken out of the trailers. Hallelujah and fuck off, you uptight Americans.
What are you waiting for? Esther's got a secret she wants to tell you and I suggest you go find out what that is before she gets very verrrry angry! Don't wait for the DVD, go see this sucker in a packed theatre.