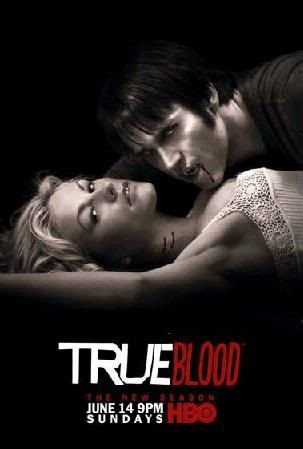 ***Click HERE for a video recap of this episode and HERE for IMDb's full rundown of everything that happened this week***
Some questions are finally being answered! Our suspicions about Daphne have been confirmed and it has been proven once and for all that Maryann was the horned beast who attacked Sookie, although those horns were merely part of a bull head mask. Of course along with these answers comes many more questions, but it's nice to see some things starting to take shape.
Once again the scene of the week goes to a flashback, this time being the bloody sex between Bill and his maker. Awesome to see Bill as a bloodthirsty and evil vamp, something we had not seen before. Cool to know that he wasn't always the brooding anti vamp who just wants to be human.
Other highlights of this episode were the Jessica/Hoyt reunion (so glad it wasn't a dream sequence!) and the shellshocked Terry comforting the just as shellshocked Lafayette. Although Terry doesn't get all that much screen time, he's one of my favorite characters and always manages to entertain and make ya laugh. Cool to see a more tender side of him but it's also pretty sad to see the shape Lafayette is in. Gone is the flamboyant and outspoken Lafayette we once knew. But hey, at least he's still alive, right? Do you think he'll ever be back to his old ways again?
Anyone have any speculation on what the deal is with Eggs? By the way, thanks to my friend Stefan who I watch True Blood with (among others), I now know that 'Eggs' is this dude's nickname because his real first name is Benedict! Pretty funny and for some reason I always thought he was called Eggs because his name was Xavier or something. Don't know how that one slipped past me....
I loved the conversation between Hugo and Sookie, particularly Hugo talking about how he wants Isabel, his vampire chick, to turn him. He brings up some good points and it seems inevitable that if Bill and Sookie want to continue their relationship, he will have to turn her and will have to do so soon before she starts getting older. How do you think the show would be impacted if Sookie became a vampire? Do you think it would hurt it at all?
And yes, I think Sookie is annoying too. We all seem to echo that sentiment. It's not that I dislike Anna Paquin, beside I don't, but her voice and dialogue is just getting very irritating. It's strange to not really like the main character on the show, the one we're probably supposed to like the most. That being said, I am dying to see Jason kick some ass and come to his sisters rescue.
Not that I really thought Sam was gonna be killed off, but the video preview for the next episode (seen below) confirms the fact that he won't be. It also suggests that Andy is going to stumble into the orgy while looking for the pig and end up being the one who is sacrified. It's pretty much set in stone. Take a look at this picture that briefly flashes on the screen in the preview video :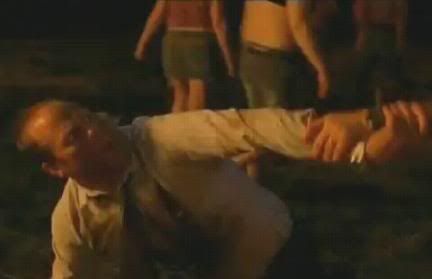 I'd say he's as good as dead. Andy's always been a funny and entertaining character but I guess he's kinda reached the end of his road and hey, it beats Sam getting killed.
Well, that's really all I had to say about this episode. Leave a comment and lets continue the discussion!
***Click HERE for a video preview of episode 7, 'Release Me', airing next Sunday and HERE for a video preview of the whole rest of Season 2, straight out of this past weekend's Comic Con***