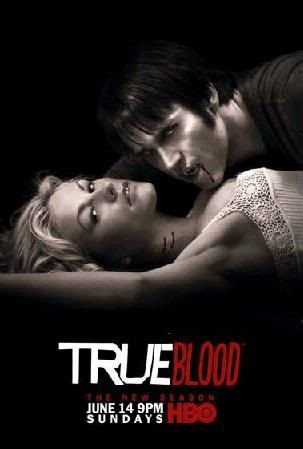 CLICK HERE FOR A VIDEO RECAP OF THIS EPISODE!
Maryann may be one evil bitch but I sure wouldn't mind being invited to one of her parties! With the exception of the eating dirt part (which is an act I admittedly used to participate in on the little league field), they look like a hell of a good time. Anyone else think this bitch is gonna turn the whole town of Bon Temps into a warzone by the end of this season? Could be pretty sweet...
As a whole, season 2 has been a lot more humorous than the first season and this episode was probably the funniest and most lighthearted of them all. In my opinion True Blood is at its best when the comedy and drama are blended together, so I really enjoyed last night's episode. The fact that it was written by creator Alan Ball himself, something he hasn't done since episode 3 of the first season, is a large part of why this one was so good. For the record, 'Shake and Fingerpop' refers to an old song by JR Walker & The All Stars that is essentially about dancing like a madman, which is of course a reference to Maryann and her evil manipulative ways.
Speaking of this episode being more comical than the others, i'm pretty sure Lafayette's crazy furniture humping dance routine was the funniest moment bar none in True Blood's history. Glad to see everyone's favorite gay black short order cook back in the groove! Where does he go from here though? Could totally see him and Eric getting it on...
Jason has really been coming into his own lately and I think he's even become my favorite character on the show. I love the whole story arc he's been going through this season and I hope we see full blown 'Jason Stackhouse - Vampire Hunter' soon. I love how he's such a dopey character (premedicated!) who is always trying to do right and better himself but usually ends up failing miserably. Ryan Kwanten pulls the role off with total perfection. And ya know Jason, I agree with ya on one thing. I'm pretty sure Jesus was in fact the first vampire!
One thing I must bring up that nobody seems to ever mention is that bizarre picture of Sookie and Tara hanging out with Gran when they were younger that they seem to keep showing. Look at this thing!
What the hell is that! Why does Gran look so creepy?! I understand they must've Photoshopped her to make her look younger but you'd think they could do better than that. It's not like they don't have a budget. Please stop showing that goddamn picture!
Another character that really shined in this episode was Jessica. Her casket flopping around on the ground, the glammering of the would be kidnapper dude, it was all gold. Like many characters on the show I didn't like her at first but she's really grown on me. Although I don't approve of her getting a male escort and I don't think Hoyt will either! Bud, Terry, and Andy all shined too with some great moments and i'm glad they're giving the more minor characters their moments in the sun, so to speak.
One last thing....
Is it just me or is Bill getting paler and more dead looking with each new episode? A little too much makeup, perhaps? Minor complaint but I couldn't help but notice.
Leave a comment with your thoughts on this episode so we can further discuss it!
And click here for a video preview of episode 5, 'Never Let Me Go', airing next Sunday!