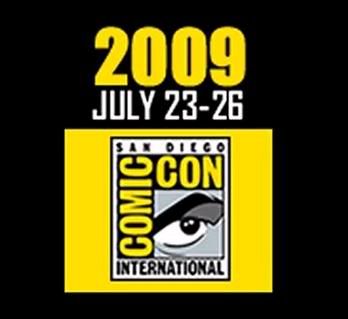 As i'm sure most of you know, the annual San Diego Comic Con began today (today being preview day) and you know what that means ; tons and tons of horror movie related coverage (news, pictures, action figures, trailers, you name it) coming our way in the next several days. There's so much of it that it's almost overwhelming and impossible to keep track of it all, so I decided to create a little guide for you containing the best sources for all things horror at Comic Con, all together in one easy to keep track of place. I unfortunately am missing out on the big event again this year and will not be able to provide any coverage from the floor myself, so this is the next best thing I can come up with for ya. Maybe next year i'll finally make it out there as it is afterall one of the things i'm dying to mark off on my bucket list. But for now, here are the only links you really need in order to get the latest up to date news pouring out of San Diego!
Firstly we have the horror websites who are running coverage all weekend. These are the three main horror news sites out there and i'm sure you all already visit them on a daily basis....
Bloody Disgusting
Dread Central
FEARnet
Dread Central even has
live streaming video
from the floor, so definetly keep an eye on that. Also keep an eye on the Freddy In Space Hit List to your right, where I will be posting some news bits throughout the next several days.
If you don't already have a Twitter account, NOW IS THE TIME TO GET ONE! All you have to do is take a few quick seconds to
sign up
, follow the below people, and watch the coverage roll in.
Adam Green
- Director of Hatchet. He's at Comic Con and will be Tweeting his experiences.
Bloody Disgusting
- BD's official Twitter.
Debi Moore
- Dread Central staffer who has been posting many pictures and updates.
Dread Central
- Dread Central's official Twitter page, chock full of up to the minute updates and pictures. There are literally a handful of new pictures everytime I refresh the browser. This is the best source for coverage i've found thus far.
FEARnet
- FEARnet's Twitter page.
Joe Lynch
- Director of Wrong Turn 2. He is on his way to Comic Con and will be Tweeting regular updates. Also check out
his blog
, where he promises to post many pictures and anecdotes.
Shawn C. Phillips
- This is just a fan but he's on his way to the convention and will be there all weekend and posting regular updates. You may know him as Coolduder from Youtube (the DVD updates guy).
Shock Till You Drop
- Shock Till You Drop's Twitter page.
If I find any other people who are at the Con and are frequently Tweeting about it, i'll update this post and let ya know about it.
Follow those folks on Twitter, keep up to date on those couple sites, and you should stay well informed on every single cool and exciting little nugget coming out of Comic Con this weekend! It's the next best thing to being there yourself!