As usual, I am only going to be discussing the DVD releases from this month that I personally have interest in or have something to say about. If you want to see every single horror DVD coming out in the month of August or any month for that matter,
Amazon
is the best place for that.
Click any of the title links to be taken to the Amazon.com pages for each release, where you can learn more about them, read customer reviews, or pick up/pre-order copies of your own!
_____________________________________________

AUGUST 4TH




Hot Blood Sundae

Perverted ice cream shop owner Ricky boosts declining sales by renaming his shop to "Scoopettes," and marketing it as an adult ice cream store. This sleepy town's ice scream store has started serving a little more than just your typical flavors, dishing out gobs of Virgin Vanilla and Busty Buttercrunch, but wait - what's that? Eeeeek! There's an eyeball staring up from the Cherry Vanilla! The five girls, whom Ricky calls "The Scoopettes," are so hot the ice scream will never stay hard! But everyone leaves with a smile and much, much more! It becomes apparent that someone doesn't like the success that Ricky is experiencing when one of the Scoopettes is found murdered in the freezer. The killing of the girls continues one at a time and the customers find a little extra in their ice scream! Remember! I Scream, You Scream, We all scream for - ICE CREAM!

This movie was released a while back as 'Ice Scream : The Remix' and I guess it didn't sell well so it was bought out by a different company who renamed it to Hot Blood Sundae and slapped a much better and more seductive cover art on it. I remember wanting to check it out last year when I heard about it, although I never got around to it. It's gotta be at least somewhat amusing, I figure. I love me some ice cream horror!




Mutant Chronicles - 1 Disc, 2 Disc Collectors Edition, Blu-ray

In the year 2707, war rages between Earth s four giant Corporations as they battle over the planet's dwindling resources. Amid heavy combat, an ancient buried seal shatters, releasing a horrific mutant army from its eternal prison deep within the Earth. As the mutant plague threatens human extinction, a single squad of soldiers descends into the Earth to save mankind.

Desipite the negative reviews thus far, I dig Tom Jane, Ron Perlman, and John Malkovich, so i'll check it out.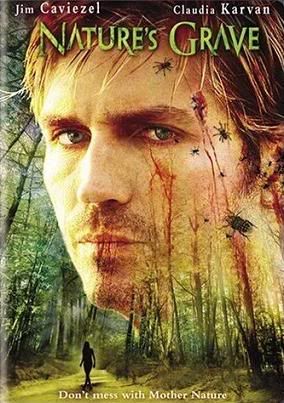 Nature's Grave

Hoping to put the spark back into their relationship, Peter (Jim "Jesus" Caviezel) and Marcia take a camping trip that quickly turns a fight for their marriage into a horrific battle for their lives. They unknowingly stumble onto an untouched beach that doesn't take kindly to the human intruders. Shocking and terrifying, Nature's Grave is a disturbing glimpse of Mother Nature's dark side.

If that plot sounds a little too familiar to you, it should. This is actually a remake of the Aussie flick Long Weekend, which I love, and I somehow didn't even know about this movie until I read about it in the new Fangoria yesterday. How did this slip under my radar? It got a positive write up in Fango, it's written by the guy who wrote the original, and it's directed by the guy who did the Dimension Extreme flick Storm Warning, which I was a fan of, so i'm very excited to see this. That being said, the cover art sucks a big one and they should've just kept the title Long Weekend. And I really don't like Caviezel either.




Psycho Santa/Satan Clause

A double dose of movies about people getting killed by people dressed as Santa, duh!

If you've been following my blog for a while, you'll know i'm a total sucker for Christmas themed horror and will watch anything that promises anybody being killed around Christmas time. Killer Santa's are the ultimate form of that and so, even though these movies both probably suck, you can rest assured I will be watching them both this holiday season, most likely as a double billing!




Rock n Roll Frankenstein

A music agent, his necrophiliac nephew and a burnt-out roadie with a knack for grave-robbing team to create a superstar from some of the greatest rockers who ever lived : Elvis, Morrison, Hendrix, and Vicious. But things go bad when Liberace's love tool mistakenly ends up in the mix. Equipped with the head of Elvis and the love tool of Lee, a schizo relationship develops between the monster and his privates. And sure enough, people have to die!

Best plot ever? I HAVE TO SEE THIS!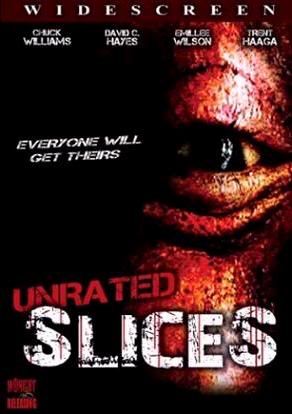 Slices

SLICES is an anthology horror movie in the vein of such films as THE TWILIGHT ZONE or the CREEPSHOW series ; five different stories with a wrap around that ties all of them together.

In addition to Christmas and ice cream horror, i'm also a total sucker for horror anthologies. I know nothing about Slices and have read no reviews on it, but I will give it a rent based on the fact alone that it's an anthology.




Trapped

An Innocent camping weekend turns into terror and murder for four young university students! Henry Chatwell tortures, stalks and kills his wife's lover, all witnessed by the students. Unable to contact the sheriff, the students return to their campsite where they are taken captive by Chatwell. Chatwell's verdict is that the students must die! Realizing he has gone too far, two villagers release the students who are one by one recaptured, expect for Roger. Chatwell goes after Roger with an axe and the fight is on. When you are trapped like an animal...it's kill or be killed!

This 1982 flick was written by the guy who wrote My Bloody Valentine (OG) and Happy Birthday To Me and directed by the guy who directed Death Weekend (aka The House By The Lake). Count me in!

_____________________________________________

AUGUST 11TH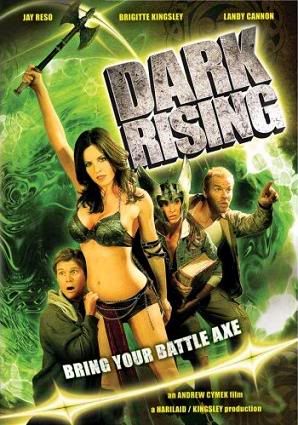 Dark Rising

A broken heart, a battle ax, a demon and a lesbian ex-fiancee...Jason Parks' life goes from bad to worse as a series of supernatural events turn his dream of reconciling with his ex Jasmine into a portal seeking, demon hunting nightmare.

Sounds pretty stupid and seems like its desperately trying to be a cult-y flick but my interest in this one stems soley from the fact that it stars pro wrestler Jay "Christian" Reso. I've said it before and i'll say it again ; i'll watch any movie a pro wrestler is in. Granted most of those movies are terrible, but it's a vow I will never dare break.




Us Sinners

Tim is a nerdy guy who gets picked on at work on a constant basis and at night unleashes his true inner beast by slaughtering prostitutes and doing all kinds of weird shit to them. When a young woman, Louise, comes to work at the same office building Tim works at, he immediately falls in love. Only problem is, the feelings aren't reciprocated. And you can tell where that's gonna lead...

Didn't dig this movie at all but George Snow, the dude who directed it, sent me a screener copy a long time ago and was always very nice to me so I figured i'd mention it on here. Congratulations George on getting Us Sinners an official DVD release and I wish you much success!
_____________________________________________

AUGUST 18TH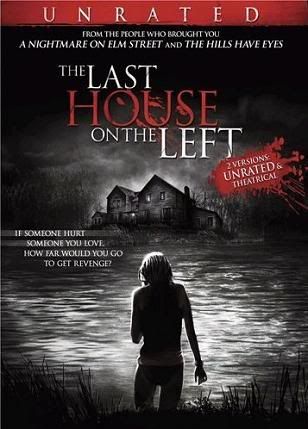 The Last House on the Left (2009) - DVD & Blu-ray

Renowned horror director Wes Craven returns to the scene of the most notorious thrillers of all time in this darkly disturbing reimagining of The Last House on the Left. After kidnapping and ruthlessly assaulting two teen girls, a sadistic killer and his gang unknowingly find shelter from a storm at the home of one of the victim's parents - two ordinary people who will go to increasingly gruesome extremes to get revenge.

One of my favorite horror remakes and one of the best horror flicks of this year. Can't wait to own it unrated (4 minutes longer) on DVD, although I am not looking forward to enduring that rape scene again. If there's one thing i've found hard to watch since having a woman in my life, it's a brutal rape scene. That being said, being utterly disturbed by that scene makes the last half of the movie that much more satisfying. I just wish they ended the movie before they threw in that stupid microwave head explosion scene. At least owning it on DVD i'll be able to hit the eject button before that pops up!

_____________________________________________

AUGUST 25TH




Children of the Corn - Blu-ray

The Children of the Corn Blu-ray offers over 40 min of bonus features filmed just for Blu-ray including:

• NEW "It Was The Eighties!" (HD) -- Linda Hamilton talks about working on the film, offering great behind-the-scenes stories about the cast and crew
• NEW "Stephen King on a Shoestring" (HD) – All-New interview with Producer Donald Borchers
• NEW "Welcome to Gatlin: The Sights and Sounds of Children of the Corn" (HD) – Interview with Production Designer Craig Stearns and Composer Jonathan Elias
• Audio commentary with director Fritz Kiersch, producer Terrence Kirby and actors John Franklin & Courtney Gains
• "Harvesting Horror: The Making of Children of the Corn" (SD)
• Fast Film Facts
• Original theatrical trailer
• Poster & still gallery
• Original storyboard and original title sequence art

I never was the hugest Children of the Corn fan but I still like to see older titles released on Blu-ray, even if they rarely seem to ever look any better than the DVD's to me. This Blu-ray has been available exclusively at Best Buy for the past month or so now so if you want to get it early, head over there.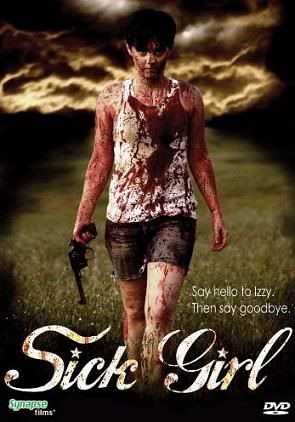 Sick Girl

There's nothing wrong with hurting things smaller than you, provided you also take on things bigger than you. Young Izzy is a girl with issues. Her parents may be dead. Her older brother is fighting in Iraq and she's raising her younger brother, Kevin, all by herself. Things are tough but, with the help of her motorcycle-riding friend Barney, she deals with her situation the best she can. Unfortunately, Izzy isn't exactly stable and her way of dealing with life's problems includes finding people to torture and kill in the barn near the family home! When a trio of bullies picks on her brother Kevin at school, all hell breaks loose. The two that die are the lucky ones...

Why am I interested in this? Because it is the return of Stephen Geoffreys to horror. You may remember Geoffreys as Evil Ed from Fright Night and Hoax from 976-Evil. So where has he been all these years? Two words ; GAY PORN. I kid you not. Some of his most recent titles include Seamen Training Day, Guys Who Crave Big Cocks, and Trannsexual Prostitutes 2! If that's not enough to make you want to see his return to a serious horror film where he's not getting pounded in the ass, I don't know what is.
_____________________________________________
What releases this month are you looking forward to checking out? If you're not impressed by this month's batch, just wait until you see what's in store in the next 2 months. With Halloween right around the corner, you better start saving up money!