After a few months of slacking on my movie watching, I finally got back to putting up an impressive number last month. Here are all of those movies that I watched, new and old, for the first time and for the 20th time, this past July! I reviewed a bunch of these movies in full so check the reviews section on the sidebar to your right if you want to read more about a particular movie. Click any of the links to be taken to the Amazon pages where you can find out more about them or purchase them for yourself!
________________________________________________
The 50 Worst Movies Ever Made
- Always a fun DVD to watch. My journey into actually watching all 50 of these horrible movies will begin this week with my thoughts on Ed Wood's Glen or Glenda! Something tells me watching this DVD will prove to be a lot more entertaining than watching all of the movies in full....
Backwoods (2008)
- It's completely unoriginal, uninspired, and cliche but for a Haylie Duff starring direct to DVD horror flick, it's not all that bad.
Bloody Moon
- Got sent this one from the awesome folks over at Severin. Didn't really dig it but it does have a pretty badass giant saw decapitation (UNCUT) that is probably worth seeing the movie for. Or you can just check out
that one scene on YouTube
. Sure it looks fake but ya gotta love it!
Boogie Nights
- I only really like to watch this movie once every couple years but it's definetly one of the best out there. It feels like sweet justice that after playing second string to Marky Mark's big dick in this flick, Tom Jane gets to finally be the dude with the big package on Hung! It all comes full circle.
Cabin Fever
- I've talked about my love for this movie more than enough. It seems that rarely does a month go by where I don't rewatch it.
The Collector
- Didn't really do much for me. I dig the Saw movies so it might seem kind of odd that I didn't dig this one so much and hell, if this were called Saw 6 maybe i'd even like it more, it's just that I guess I went into it expecting to see something different and didn't really get that. If that makes any sense.
Creepshow 3
- Yes, there is a Creepshow 3 but it really only shares a title with the previous two. I love horror anthologies but this one is totally without merit. I was expecting at least some Creepshow esque fun, but didn't get an iota of it.
The Fly ('86)
- One of the best horror movies ever made. I love every second of this grotesque and disgusting masterpiece. Jeff Goldblum in the starring role may be the most perfect bit of casting ever.
Groom Lake
- What the fuck is this, William Shatner? I rarely turn movies off in the middle of them but I just had to do it on this one. On the DVD there's an interview with Shatner, who directed the film, where he talks about how this movie was a passion project and how it's meant to be almost a love letter to his deceased wife and it is so sad to hear this given how awful the movie is. I appreciate the passion, Shat, but try again. Actually, don't ever try again.
The Hangover
- Rarely do movies actually live up to extreme amounts of hype but i'm glad to say The Hangover totally did. It's the funniest movie since Superbad and I might even like it more than Superbad. Zach Galifianakis is pure comedy gold and this proves that people out there other than Judd Apatow can still make a hilarious hit comedy!
Hatchet
- Much like Cabin Fever, i've spoken enough about this movie. Both flicks were watched on the big screen projector during a night of beer pong in my garage a couple weeks back. Can't beat that!
The Haunting In Connecticut
- Reeks of generic haunted house horror. Totally cliche and boring. Watch
A
Haunting in Connecticut, the 2002 Discovery Channel docudrama, instead. It kicks ass.
JCVD
- Very strange movie but I really dug it. Jean Claude is a hell of an actor and he proves it in what is probably the best movie he has ever made. At times hilarious, at times ass kicking, at one point fourth wall breaking and tear inducing, this one definetly deserves a watch.
King Ralph
- This is one of those movies that if I flip past it on the TV, I will ALWAYS leave it on until it is over, no matter how recently i've just seen it. JOHN GOODMAN IS A GOD.
The Landlord
- Don't get betrayed by the awesome 80's style cover art of this flick, like I did. The movie is no reflection of that throwback art and just plain sucks.
The Last Resort
- One of the worst movies I have honestly ever seen. I have never hated a group of actors so much in my entire life. How did you go from Friday The 13th to this, America Olivo?
The Legend of Boggy Creek
- I am completely fascinated by all things Bigfoot, but I was honestly bored to tears by this movie and ended up fast forwarding through much of it. Most positive reviews for it that I read seem to all come from people who watched it when they were kids and were terrified of it back then, which is probably where most of the love comes from. If I had seen it a kid, i'm sure i'd have a much greater appreciation for it. But seeing it for the first time as a 23 year old man, it did nothing but bore me.
Mahakaal : The Monster
- The Bollywood version of Nightmare on Elm Street! Freddy Krueger with a mullet! Need I say more? This movie must be watched, if only out of curiosity.
Mum and Dad
- Not sure where all the praise for this movie has been coming from as I was not impressed in the least. Another "torture porn" flick that brings nothing new to the table other than an attempt to shock and gross out its audience. Neither of which it did for me.
Orphan
- GO SEE IT. More on that in a second.
The Possessed : The Watseka Wonder
- These ghost documentaries are starting to bore me. They're all the same and they never actually prove anything. Yawn.
Quarantine
- I bashed this movie before it ever even came out because I loved REC and was pissed off that it was already being remade, before it even came to DVD, but Quarantine kicks some serious ass. Is it better than REC? If not, it's certaintly its equal.
Return of the Living Dead
- One of the most fun horror movies ever made. They just don't make 'em like they used to. I watched this with Jen, who had never seen it before, and we both had a great time with it, as I always do.
Return to House on Haunted Hill
- Unexpectedly, I actually kinda liked this movie. It's very gory, there's a lesbian scene between two hot decaying ghost chicks, and it's just all around a fun time.
Revolutionary Road
- I didn't really 'get' this movie until I gave it a few days to sink in. While I initially thought the message of the movie was that life sucks but we just deal with it, which is pretty depressing, i've come to realize that the message is that we all get our chances to do what we want to do and be what we want to be in this life and we must take them. If we don't, and we get stuck living a life we don't want to live, then is when it will suck and we will just be forced to deal with it until it's over.
Slime City
- This is another one that seems to get a lot of praise but bored the hell out of me. The gore sucks for the most part and it's a hell of a lot more boring than it is entertaining. I love splatter flicks but when there's not even all that much splatter, and when it's poorly done at that, there's just nothing to like.
Thicker Than Water : The Vampire Diaries Part 1
- Solid and entertaining indie flick. It's not for everyone and it's certaintly no masterpiece, but it's worth an hour and a half of your time.
The Visitor
- Already talked a bunch about this in a past month's "Movies I Saw" post but if you didn't listen to me then and give it a rent, listen to me now and GIVE IT A RENT! Richard Jenkins was robbed of the Oscar, if ya ask me.
________________________________________________
Now is normally the time where I tell you my favorite movie I watched last month and my favorite horror movie I watched last month, but this month they are one in the same....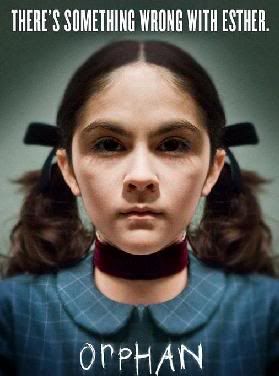 To call Orphan one of the best horror movies of this year is a huge understatement because truth be told, it's one of the best horror movies in the last several years. Rather than going into all the things I loved about it again, i'll direct those that want to hear more about it to my
full review
from a couple weeks back. If Orphan is playing in a theatre anywhere near you, I strongly urge you to go see it. You will not be dissapointed.
Same goes for The Hangover. That's still playing in many theatres and if you haven't yet gone to see it, you are seriously missing out. Grab a few friends and have a night out at the movies that will actually be worth every penny of your overpriced ticket.