A new bar/restaurant called Thunder Jackson's just opened up in my town a couple weeks back and I went with the family tonight to check it out. It's been a hot spot in Manhattan for a while and it just made the move out here and i'm really happy about that considering the eating options in my town are not all that exciting. This place is really cool and has got one of the most delicious burgers i've ever had but the reason i'm talking about this on a horror blog is because my brother pointed out something pretty peculiar about the menu. While I initially thought the shadowed figure on the front of the menu was some kind of hat wearing gangster, which it probably is and which fits the blacksploitation sounding name, ya can't help but notice that it looks a hell of a lot like another guy we're all pretty familiar with!
I'm pretty sure Freddy even took that same eloganted shadowed pose in one of the Elm Street flicks, although I can't seem to recall which one it was.
Cool or am I just easily amused?
_____________________________________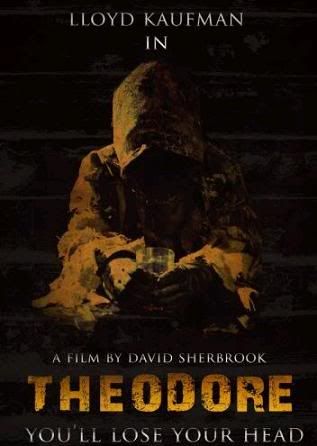 Remember that short film
The Morning After
that I watched/reviewed a couple weeks back? Well the guys over at Infested Films just cut together the trailer for their second short, titled Theodore, and it's been posted on their website tonight. Check it out and keep an eye out for Tromaville's founding father!
I'll keep you guys posted on when the short becomes available to watch. Same goes for Morning After.
_____________________________________


On a final note for this post, I wanna thank everyone for their well wishes in regards to my dog, Nacho. She had been pretty sick this past week and was not given too much time to live by the vet but after a few long days of taking care of her and nursing her back to health with medication and good ole love, she seems to be pulling through this thing. All is looking well, much to everyones surprise. If that's not a miracle, I don't know what is.