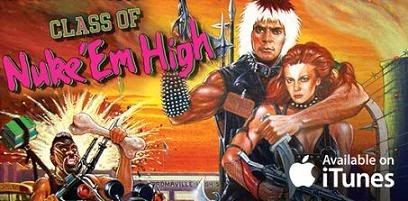 Because I just love to give you guys free shit, as a token of my appreciation for reading my little blog, i've got a new contest for all you Troma fans out there! But before you enter this one, be sure to enter my other contest going on at the moment where you can win the new horror/survival game for the Nintendo Wii, Cursed Mountain!
Click here to enter
. You have until August 26th to get in your entries (a total of 5 possible entries per person!).
And now, onto tonight's order of business. A bunch of Troma titles have just recently been made available for download on iTunes and John Bonini of
NewVideo.com
was kind enough to give me four free downloads to give to you guys. The titles that are currently on iTunes are as follows (click the links to be taken to the iTunes store, where they can be downloaded - if you don't have an iTunes account, these links will lead to the iTunes homepage, where you can download the program) ;
All The Love You Cannes!
,
Cannibal! The Musical
,
Class of Nuke 'Em High
,
Def By Temptation
,
The First Turn-On!
,
Mad Dog Morgan
,
The Toxic Avenger
, and
The Toxic Avenger Part 2
. I have been given two free downloads of The Toxic Avenger and two free downloads of Class of Nuke 'Em High (both valued at $9.99 a piece), which I will disperse to four of you guys. All you've gotta do to enter is send me an e-mail at mortis45@aol.com, with the subject "TROMA", saying which title you'd like. When the contest ends, on September 14th, I will choose four winners to each receive a free download of the title of their choosing. Possessing the ability to watch all the gooey and gory Troma fun on your iPod or iPhone has never been easier!
I must mention that unfortunately this contest is only open to residents of the United States, as iTunes cannot 'gift' downloads to residents in foreign countries. Also, if you don't already have an iTunes account, it would be a good idea to
download the program
and sign up for one now so that if you win, you will be able to receive the movie as soon as the contest ends. Otherwise, you'll have to download the program and create an account before you can be gifted the download.
And that's about all I wanted to say. Good luck to all!