Just got a bunch of Grace promotional stuff in the mail today to dole out ; posters, postcards, and even limited edition baby bottles! Huge thanks to Adam Barnick from
Icons of Fright
who so believes in and so supports this movie that he spent money out of his own pocket to get this stuff to me. Adam, you are the perfect example of why horror fans are the coolest and most supportive people on earth. You rock!
Check out this awesome piece of swag!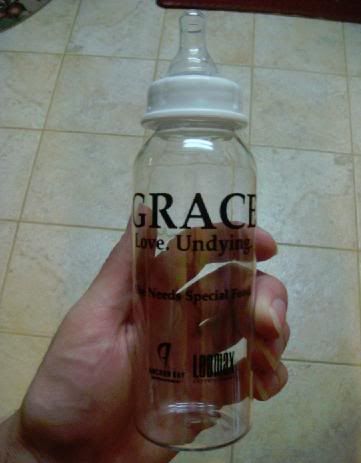 (I know, I need to clip my nails)
Unfortunately it looks like my plans to support Grace outside of this blog have once again slipped through the cracks. First my day of pushing around a baby carriage in the city was rained out and now my plans to go see the movie tommorow are probably gonna have to be put on hold. My dog,
Nacho
, has recently fallen pretty ill and things are not looking good and i'd prefer to keep an eye on her and comfort her than head a few hours away for the day. Gonna try to go see the flick before the theatrical run is up, it's just not looking like i'll be seeing it tommorow. B-Sol from
The Vault of Horror
is heading over there with Mrs. B-Sol so be sure to keep an eye out on his blog for a recap of the night as well as a review. It looks like our rendezvous will have to wait, B-Sol, but let's arrange something for the future!
For those in the NY/LA area, Grace opens TOMMOROW.
Click here
for all the details and to buy your tickets. If you're not located in one of those two areas, have no fear! Grace hits DVD September the 15th!
Pre-order your copy today!