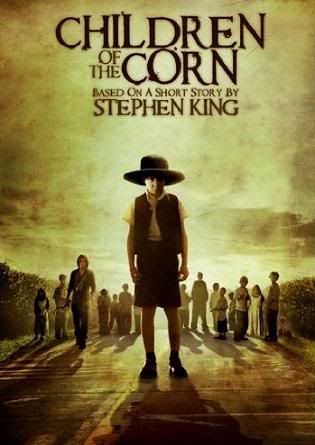 There are some movies that you don't even need to watch a single frame of before you can make the judgement call that they're gonna suck. SyFy original pictures ten out of ten times fall into that category and the only difference between this movie and all of those other shitfests they put out is the fact that it shares the same name with what is considered to be a horror classic - don't let that fool you into thinking it's any different. This made for TV remake is utterly worthless garbage that serves absolutely no point whatsoever. It's the kinda movie that does nothing more than bore you into an early bedtime.
Let me break the movie down for ya. The first half consists of two shitty characters, played by two equally shitty actors, spouting equally shitty lines of dialogue, fighting and arguing with one another in their car. This literally goes on for what seems like 45 minutes. One of them finally gets killed and the second half of the movie consists of the other shitty character running away from unconvincingly evil kids and battling corn stalks all while having 'Nam flashbacks in the process - ya know, to give his character some depth. And then the dude gets caught and killed, I think, although it's never shown or explained. In between these segments we're treated to bad child actors reading dialogue that is clearly way over their heads, which kinda takes the piss out of the whole idea of them being uber evil vessels of some god made of corn who are more mature and smarter than they look. It's all laughably bad stuff, as i'm sure you've gathered by now.
Laughably bad - that about sums up the entire movie and there's really no need to say much more. It's not that I expected much of anything from it, I just had to give it a shot just in case SyFy had finally decided to put some time and effort into their movies. Sadly, I don't think that day will ever come but I also don't think i'm gonna let them fool me into watching their shit anymore. Then again, at least some of their stuff is of the so bad it's good variety. I dont know about you, but i'll take insanely bad CGI monsters tearing shit up over what I just watched any day of the week.
If you absolutely insist on checking the movie out for yourself and missed its airing tonight, you can pick it up on DVD starting October 6th - in an uncut and uncensored form. Whoopee.
Click here
to pre-order it from Amazon today.
Oh, and lest you think i'm just bashing this movie out of an allegiance to the original, I never cared for the original, or any of the many sequels, either.
Time to continue this impromptu Saturday night horror marathon with a little Hills Run Red action. I'll be back shortly with my thoughts on what looks to be one of the better horror flicks of this year. Hope, hope.