I know I already talked about this shirt a couple days back but I just got it in the mail and I wanted to show you guys pictures of the shirt itself. I actually ordered the shirt in a girl's size medium as a gift for Jen but ended up getting sent a men's size medium - and the girl's size medium is now all sold out. Kind of a bummer as I think she would've looked pretty snazzy in it but hey, I just so happen to be a men's size medium so it kinda works out. Speaking of Jen, I would've had her model the shirt so you have something to look at other than a shirt you've probably already seen but she's not home from work yet so you're just gonna have to look at the shirt as it appears on my brand new blood red sheets instead!
FRONT :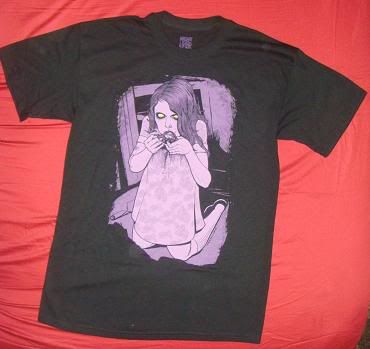 Click here for a larger close up shot of the front design.

BACK :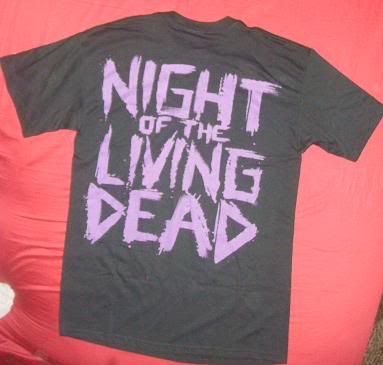 Pretty nice, eh? Fright Rags really does a nice job with their limited edition line of tees, even going so far as to create special
printed in tags
(Fright Tags, if you will), and this is no exception. Whether I end up wearing this or Jen ends up keeping it as an oversized bed shirt, this is one shirt i'm proud to have in our closet and just knowing that there are only 199 other shirts with this design on it out there makes it all the sweeter!
If you want your very own Night of the Living Dead Limited Edition Artist Series shirt, head over to
Fright Rags
. Your size options are pretty limited at this point (men's S, M, XL & women's S, XL) and you better act fast if they still have your size in stock because even those are sure to be gone soon.
As always, thank you Ben for giving us the horror shirts we deserve. And thanks for the
free prizes
too!