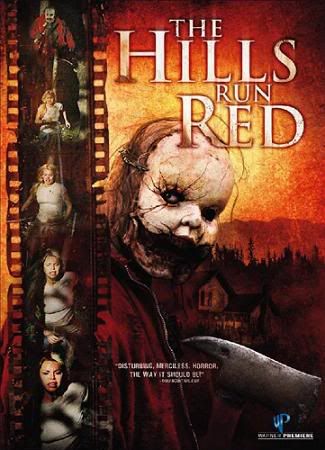 I've often found that large amounts of hype for a movie usually end up being a bad thing. Your expectations are raised so high that once you finally get the chance to see the movie you've heard raved about for months prior, it can never live up to those expectations. Such is unfortunately the case with The Hills Run Red. Now don't get me wrong, it's an above average horror flick with an awesome concept and a pretty badass killer, it's just not really anything special. For those who don't know much about the movie, landing on DVD next Tuesday the 29th, here's a brief synopsis....
So there was this horror flick made in the 80's called The Hills Run Red that only a few people saw before it was inexplicably pulled and all prints were mysteriously lost. A horror film fan by the name of Tyler has made it his life's work to not only see the film but to discover why it was pulled and deemed so dangerous in the first place. Alongside a couple friends and the thought to be dead director of the film's stripper daughter, Tyler sets out for the woods to check out the movie's filming locations, in an effort to provide some answers. What they find is that The Hills Run Red is more than just a movie and it's killer, Babyface, is more than just a character dreamed up from the mind of a filmmaker.
Although pretty damn similar to John Carpenter's Masters of Horror episode 'Cigarette Burns', ya can't argue against that being an awesome concept - a concept which proves to be the best thing the movie has got going for it. The reason I was so interested and enraptured in this concept is because it's something that I, and pretty much all diehard horror fans, can easily relate to. I'm endlessly fascinated by horror movies and horror movie filming locations and if I had heard about a movie like The Hills Run Red that had so mysteriously vanished off the face of the earth, you can bet i'd be as curious as Tyler is about it. Think of it like you and your friends taking a vacation to the campsite that Friday the 13th was filmed on and you guys finding out that Jason is really out there. That's some terrifyingly badass shit and the perfect set up for a great horror movie. But again, the movie doesn't really live up to this awesome concept. What should've layed the groundwork for a cool killer slicing and dicing horror fans Hatchet style instead layed the groundwork for what I felt was a story that was overly muddled with plot and twists and turns that didn't deliver too much of what I wanted or expected from it. I'm not bashing the movie for having plot, I just didn't think all of it was necessary.
Here's the thing - the movie inside the movie, aka the fictional 80's slasher flick titled The Hills Run Red, as seen through a "crude" trailer and still photos - looks like a much better horror movie than The Hills Run Red that I watched! That's the movie I wanted to see and I can't help but feel that that's the way this movie should have been - Babyface running around the woods brutally killing people. That's all I wanted! Don't get me wrong, he does brutally kill some folks and there are some scenes that give glimpses as to what the movie could have been, but it's all just not as fun as it should be. It doesn't help the movie's case any that one of those kills, one of the bigger ones in the film which is shown not once but twice, is heavily and noticeably CG'ed, which I do not approve of and which a movie like this should never have resorted to. Big thumbs down on that one. But ya, there are some cool kills, just not enough to satiate my sick desires. There is however enough nude Sophie Monk to satiate anyone's desires, even the most hardened of Sophie Monk admirers, so that's a plus.
All this being said, the movie does have a lot going for it. The killer is cool looking and memorable, the characters are smart and complex, William Sadler is in it, there's plenty of nudity, and the plot is top notch - so I really can't bash it or speak too badly about it. It's an above average horror flick that is definetly worth your time and has a lot of cool aspects to it, it's just not as special as we've all been led to believe, in my opinion at least, and it wastes a lot of the massive amounts of potential it had going for it. My advice is that you definetly should see it, just don't expect too much from it. If your expecations aren't too high, as high as mine were, you should get some decent enjoyment out of it.
Oh, and be sure to stay tuned past the credits for the typical sequel set up add on scene....
The Hills Run Red hits DVD this Tuesday the 29th.
Click here
to pre-order it on Amazon today.