As always, I am only going to be discussing the DVD releases from this week that I personally have interest in or have something to say about. If you want to see every single horror DVD that came out this week,
Amazon
is the best place for that. Speaking of which, click any of the title links to be taken to the Amazon pages for each release, where you can learn more about them, read customer reviews, or pick up copies of your own!
_____________________________________________

TUESDAY, SEPTEMBER 22ND, 2009




Albino Farm

An Ozark Mountain town - with a century-old history of religious fanaticism - inadvertently creates a modern sadistic society of in-bred misfits who prey on stray travelers. Four young college students - lured into exploring the legend of the Albino Farm - uncover its disturbing past while enduring a night of horrors.

Ok, so it sounds highly generic, I know. But my interest in this movie has nothing to do with the plot and everything to do with the fact that it stars WWE superstar Chris Jericho AND Howard Stern Show's own Richard Christy - making this an absolute must see for me. I was supposed to be sent a screener but it never arrived, so i'm gonna have to Netflix or just blind buy this sumbitch. My only hope is that their roles are not just minor cameos, although i'm afraid that might be the case. If anyone's seen it, let me know.




Clive Barker's Book of Blood DVD & Blu-ray

While investigating a gruesome slaying, a paranormal expert finds a house that is at the intersection of "highways" transporting souls to the afterlife.

This movie felt less Clive Barker-y and more generic haunted house-y. Granted, I haven't read the story it was based on, but from what I gather it's a very very short story that was stretched for this film, so that might have something to do with it. That being said, it's a pretty above average haunted house flick and is definetly worth checking out. It's just nothing special or memorable, is all.




The Haunted World of El Superbeasto DVD & Blu-ray

El Superbeasto aka "Beasto" is an unstoppable superhero masked wrestler, Producer/Director/Star of BeastoWorld Enterprises—and world-famous man of action! In his first full-length animated adventure based on the comic book created by Rob Zombie, Beasto and his super-sexy sister Suzi X must stop the unholy marriage of foul-mouthed stripper Velvet Von Black and diabolical Dr. Satan, or unleash all the sudsy powers of Hell! Welcome to a depraved domain of outrageous comedy, non-stop ultra-violence and bad-ass theme songs! Featuring a horde of Nazi zombie bikers, seven original songs by Hard 'n Phirm and the voice talents of Tom Papa, Sheri Moon Zombie, Rosario Dawson, Brian Posehn and Paul Giamatti as Dr. Satan in THE HAUNTED WORLD OF EL SUPERBEASTO!

Blind bought and watched this last night with Jen. Between the both of us, we laughed a combined total of I believe three times. It's utterly stupid, pointless, and nearly all of the (mostly sex related) jokes fall totally flat. The main character, El Superbeasto, is highly unlikable and unfunny, which doesn't help any. But despite all of this, I guess it was on some level moderately fun, mostly due to the cartoonized cameos from horror icons including Michael Myers, Leatherface, Nosferatu, and even Otis and Captain Spaulding from The Devil's Rejects. Another standout was Rob's wife, Sheri Moon. While many rag on her and say her acting ruined films like House of 1000 Corpses and TDR (a claim I completely disagree with), I think few can argue with the fact that she was one of the better points of this movie. As Jen pointed out, her voice is very well suited to cartoon work - something she should probably do more of in the future. Those who have been dying to see her drop all of her clothes, your time has come as she is nude on several occasions throughout the film. Granted it's only a cartoon version of her, but she makes for a pretty sexy cartoon character, if I do say so myself. Bottom line is - ya really don't need to bother watching this movie, but there are much worse ways to spend 77 minutes of your time. While the movie had small glimmers of potential, I can't help but once again think that Rob Zombie can do so much better than this. Were House and Rejects really flukes?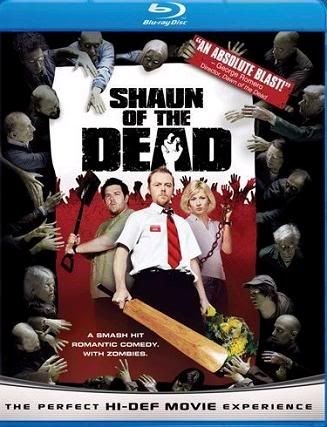 Shaun of the Dead Blu-ray

- 4 Commentary Tracks (including two that were originally only on the UK Shaun DVD release)
- Raw Meat ; Simon Pegg's Video Diary, Lucy Davis' Video Diary, Joe Cornish's Video Diary, Casting Tapes, Edgar and Simon's Flip Chart, SFX Comparison, Make-up Tests, EPK Featurette
- Missing Bits ; "Funky Pete" Featurette, "Plot Holes", "The Man Who Would Be Shaun" Outtake, Outtakes, Extended Bits (w/commentary)
- TV Bits ; "Fun Dead" Fake TV Show Excerpt, T4 With Coldplay Interview, "Trisha-Your Nine Lives Are Up" Talk Show Spoof, "Trisha-I Married a Monster" Talk Show Spoof, "Remembering Z-Day"
- Zombie Gallery ; Photo Gallery, "2000 AD" Strip, Poster Designs, 4 Trailers, 2 UK TV Spots, Storyboard Gallery, Zomb-O-Meter U-Control Featurette

While this Blu-ray has been out exclusively at Best Buy for a while now, it finally landed on shelves everywhere else yesterday. Never got the chance to pick it up at Best Buy but I definetly plan on it in the future. The movie in hi-def plus the inclusion of two new (at least to me) commentaries is enough to satisfy me. Best of all, one of the commentaries is a 'zombie commentary', with five zombie extras talking about their work on the film!

Other notable titles hitting DVD this week include ; Friday the 13th : The Final Season, Friday the 13th : The Complete Series, The Howling Trilogy Tin, Zombie Classics Tin, A Haunting : Demon Angels, and Silence, Ca Tue!.
_____________________________________________
What DVD's/Blu's are you guys gonna pick up/check out this week? Leave a comment and let me know!