We're now a mere month and a half away from Halloween and the decorating has begun! I bring you tonight a very special sneak peek at my Halloween 2009 lawn decor. It's in its very early stages and I will of course put pictures up of both the inside and outside decorations when i'm all done (and yes, I plan on going all out!) but for now, here's a little early look at two of my most prized Halloween decorations.....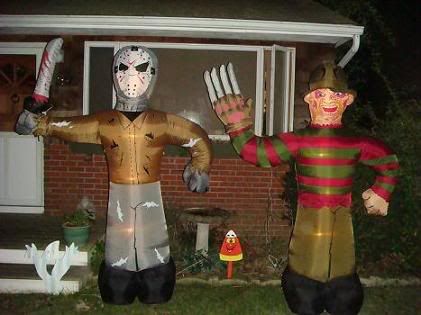 Only on my lawn can Freddy and Jason co-exist! Fred was purchased half off after last Halloween and Jen got me Jay for Christmas last year, so this is the first year i've actually been able to do anything with them. I'm kinda afraid of having them outside for fear of little shitheads messing with them but I guess i'll just have to take that risk. I've had some bad experiences with hoodlum kids fucking with my decorations in the past but we cannot let them discourage us from decorating our lawns. To do so would be a sure sign that the terrorists have indeed won!
Have any of you guys started decorating yet? If you have, or once you do, and you'd like to see your very own decorations featured here on Freddy In Space, drop me an e-mail with some pictures and I can make that happen for ya!