Jen and I both surprised one another last night with Halloween related purchases from K-Mart and CVS, respectively, and they just so happened to both be noise making products featuring the likenesses of Freddy and Jason, respectively. What a coinky dink, eh? She actually called me up on her way home from work and told me she bought me a Halloween item, hinting at the facts that it (a) made noise, (b) could be displayed year round, and (c) depicted a horror movie character, and we were both at that point pretty sure that we had both purchased the same item for one another. It wouldn't be the first time, but thankfully such a sad fate was not ours on this occasion. Anyway, here's what I found over at K-Mart.....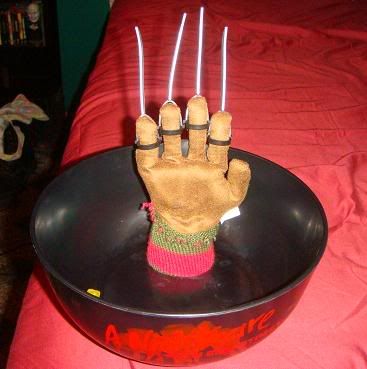 Back of glove pictured here
The Freddy's gonna getcha candy bowl! I gotta admit, K-Mart has really impressed me with their Halloween products this year. First the life-sized motion activated Jason (which X-Entertainment's Matt splurged on and reviewed
here
) and now this. I've seen these types of 'grab for you when you stick your hand in the candy bowl' bowls in the past, but never before a Freddy one - although I suppose it was bound to happen. As I walked out of the store with it, the bored K-Mart security guard asked to see it in action and god bless him for being a nosy bastard because it turned out the one I bought didn't even work. How could I not notice, you might be asking yourself? Well, there's a little piece of yellow tape that has to be pulled out of each of these candy bowls before they start working and when I picked one off the shelf, I made sure to get one that didn't have the yellow tape pulled out yet, to ensure that it wouldn't be dead from overly touchy customers playing with it for the last couple weeks. Turned out that once I pulled this yellow tape out to show the man the goods, it didn't even work and I had to exchange it for another. So thank you, security guard! This same security guard then went on to hand my friend $1 to play the crane game, thus cementing his spot as the greatest K-Mart security man of all time. And that's saying something given the fact that the previous security guard at that K-Mart was a magician with his own local cable access show who was kind enough to give my friend and I shoutouts live on air. But enough babbling, here's the Freddy candy bowl in action - marked at $16.99 but running me a mere $11.99!
This non Robert Englund Freddy offers up a couple other phrases as well, all preceded by the breaking glass/rattling chain sound effect you heard aboue ; "I'm gonna split you in two!" and "Tell 'em Freddy sent ya! Huahahahahaha!". And yes, much like all noise making Halloween decorations, this thing also goes off when your hand is nowhere near the bowl.
Next up, we have Jen's CVS find....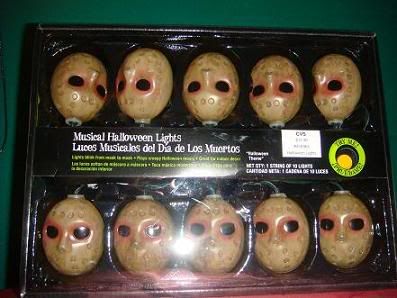 "Musical Halloween Lights"! These little plastic Jason masks with a bad case of pink eye might not look so impressive in that picture, but just wait till you see them not only light up, but also play a popular theme song. The Friday the 13th theme song, right? WRONG!
Is it just me or does that little error make these things even cooler? I suspect that the company that made them got the rights to the Carpenter Halloween theme and, realizing that making Myers heads would be infringing on copyrights and might result in William Shatner knocking down their doors, decided to just throw the theme into a pair of hockey mask head lights. They wouldn't be the first company to sell Jason masks under the guise that they're merely hockey masks. You sly sly bastards.