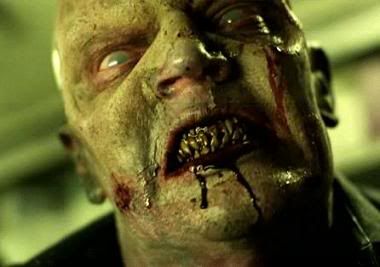 Been meaning to talk about both of these for a week or so now, so let's throw them both together in one post. Here are two new horror shorts that you can, and should, watch right this instant!
- The first comes courtesy of my friends over at
Infested Films
, the guys responsible for that short
The Morning After
that I reviewed a couple months back. Their second short, Theodore, has just hit the net and is available for free download and I think you guys might like it. It's gory, it's funny, and it's got Troma's Lloyd Kaufman as a hick bartender! Infested Films is all about entertaining and bringing back the days of plain old gory horror fun and thus far they have not dissapointed.
Click here to download Theodore
! The Morning After is not yet available for instant watching, but i'll let ya know when it is.
- The next short was made for a competition called The Doorpost Film Project and if I had posted this a bit earlier, like I had planned, you could've supported it and helped it win by voting for it, but at least you can still watch it and show your support in other ways. Filmmakers were tasked with directing a short centered around the topic of 'hope' and Nathan Cox decided to take that idea and go in a completely different direction than everyone else went, by making a zombie flick. If that wasn't cool enough, the short stars Derek Mears and Rodney Eastman, the latter of whom you may remember from Nightmare on Elm Street 3 : Dream Warriors. You're gonna have to create an account to watch it, which shouldn't take you more than a minute.
Click here to watch The Resurrection of Officer Rollins
. You can also check out a behind the scenes video chronicling the making of the short at the same link. If you dig it, and i'm pretty sure you will (zombie Derek Mears!), show your support by leaving a comment and letting everyone know.